WEST CHESTER — In their final home game of the season, the Lakota West Firebirds jumped out to an early lead against the Princeton Vikings and shut them out over the ensuing 47 minutes in a 35-0 win to advance to the regional semifinals.
Mitch Bolden took the first play from scrimmage up the middle for a 42-yard gain, and two plays later, Trent Lloyd took the ball for 22 yards into the end zone to give the Firebirds a 7-0 lead with 11:07 showing on the clock.
The Vikings answered with an opening drive that began with a fumbled snap on first down, a false start penalty, and another fumble that Lakota West recovered. Bolden ran in a 22-yard touchdown of his own the next play, and the Firebirds quickly had a 14-0 lead.
The rout was on.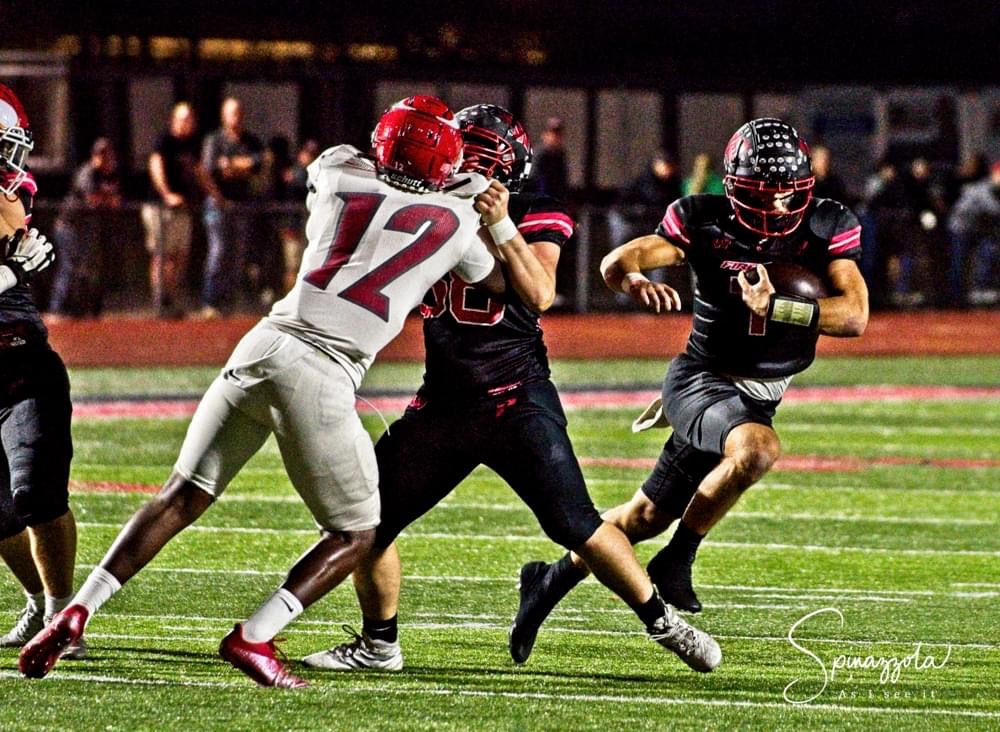 "I told the kids we needed to come out fast. I think we made some great adjustments from that first game in film study," Lakota West coach Tom Bolden said. "Offensively and defensively, I think the staff did a great job putting it together, and the kids really knew what we needed to do and exploit and that's what we did. We came out and we started fast, and that's all you can ask for."
The Vikings tried to overcome the early deficit on their next drive, and a 43-yard RJ West run had the Vikings sniffing the end zone. But the West defense stiffened up, forcing a 29-yard field goal attempt that sailed wide left.
Bolden orchestrated a drive that ended in a 9-yard Eudes Gonzales touchdown reception and a 21-0 lead with 2:47 left in the first quarter. From there, Princeton struggled to get anything going offensively, and West would continue to play defense like the '85 Chicago Bears.
"We kind of put the pressure on them and as good of defense as we play, if you can get up like that, that's tough," Tom Bolden said.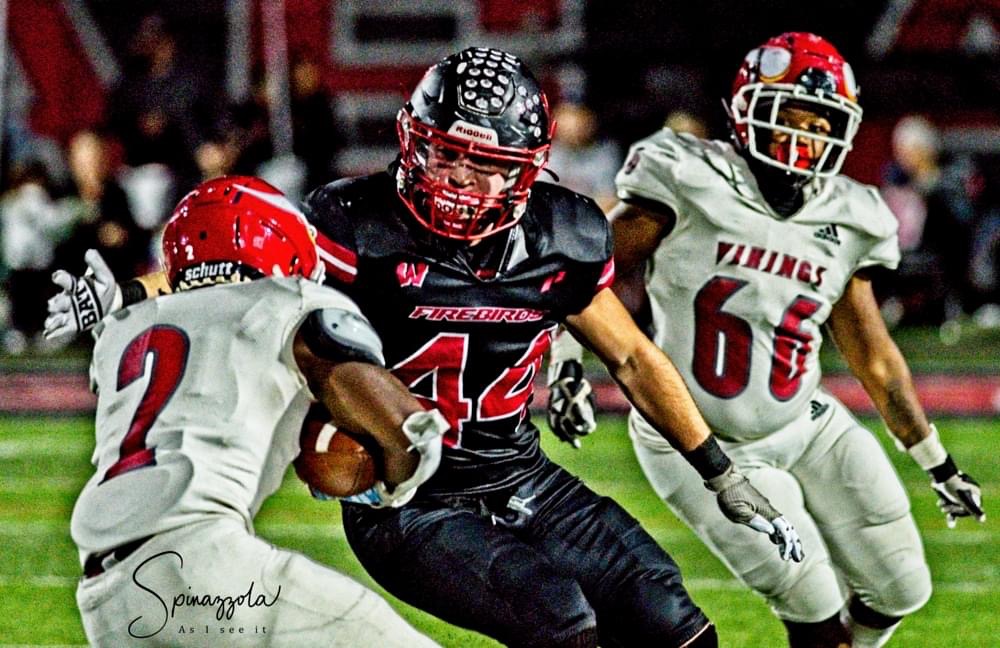 Lakota West added another Mitch Bolden touchdown run late in the first half and took a 27-0 lead into halftime, and many of the Firebird faithful were heading to the exit thinking about dinner plans and checking on scores to see who West would be playing next week.
West gave up a total of 129 yards, allowed 3.5 yards a carry, 2.4 yards through the air, forcing the one turnover and secured a safety off the toe of a 78-yard punt by Joe Marquardt that pinned the Vikings on the 2-yard line.
"The defense does what it does," Tom Bolden said. "The one big play that they had early in the game we had a busted assignment and I told the kids, they look at me like I'm crazy, but I tell them every week that if we take care of the ball offensively and we execute our assignments on defense, we're tough to beat."
Defensively, the Firebirds gave up the one long first quarter run, but not much else. Buoyed by a trio of power-5 defensive back commits, not much got passed the third level, if it even made it there.
Playing in his final home game for his father, Mitch Bolden threw for 84 yards and a touchdown and ran for another 84 and two touchdowns.
"It's a little emotional," Mitch Bolden said. "(Tom) got a little emotional in practices. We are his first class. He came in with us and he's been with us for four years, and I think the work he's put in has shown because we're 12-0 man that's something crazy. It's a bittersweet feeling, but a great way to go out."
Tom was impressed by the play from his quarterback, but perhaps he was more impressed as a father.
"He missed a few things, but another gutsy performance. I mean to do what he does running it, throwing it, the kid is just a leader and you know I'm just a proud dad — there's no question about that. But the 30-year coach in me tells me that the kid's just a baller. He's an absolute winner and somebody is going to get a great football player," Tom Bolden said
As the only undefeated division-1 team remaining in Ohio, the 12-0 Firebirds move on to face the Elder Panthers at site yet to determined. The Vikings fall to 9-3.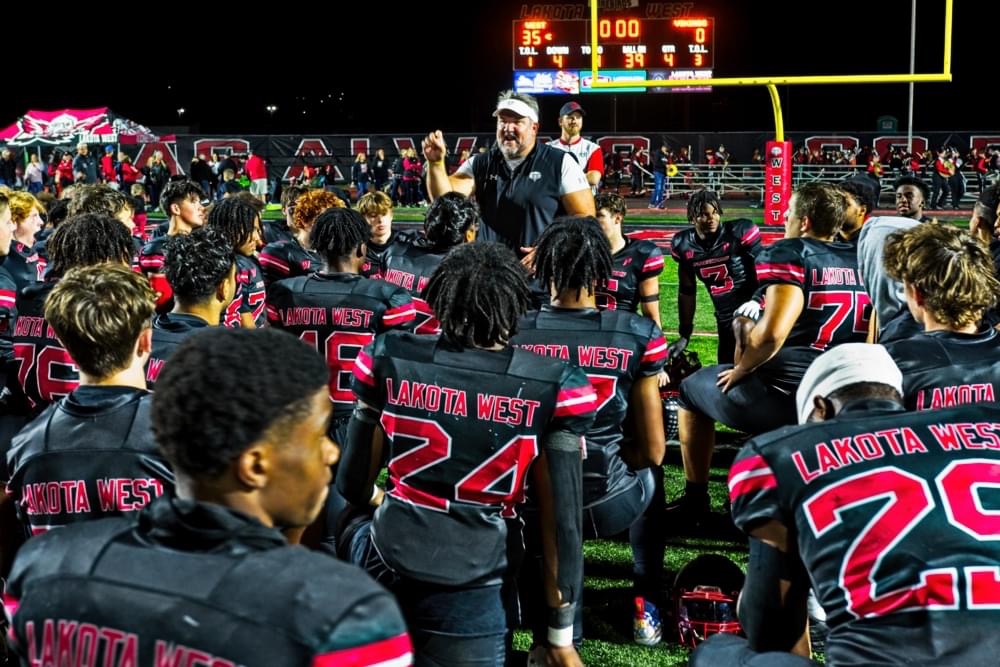 OTHER COVERAGE AREA RESULTS
WINTON WOODS 34, ROSS 21
Winton Woods survived a scare from Ross on Friday night but were able to pull away in the second half. Vance George passed for 271 yards and two touchdowns as the Warriors showed a big passing game for the first time this season.
Tra'mar Harris caught eight passes for 133 yards and a touchdown as the top threat on the outside. Trey Cornist once again paced the Warriors on the ground with 93 yards and three touchdowns.
Ross was led by a balanced rushing attack that kept them in the game. Emory Severance (82 yds), Riley Caldwell (38 yds), and Jaye Warren (32 yds) all ran the ball well in the loss.
Ross finished the season at 6-6.
BADIN 41, NEW RICHMOND 14
Badin jumped out to a 41-0 lead and never looked back in a dominating victory on Friday night. University of Cincinnati commit Braedyn Moore caught 5 passes for 84 yards and three touchdowns to continue his big season. Quarterback Alex Ritzie was perfect on the night going 11-11 with 174 yards and the three TD tosses to Moore. Carter Russo rushed for 102 yards and two touchdowns on only 12 carries.
New Richmond was led by AJ Metger who was 24-45 for 296 yards and rushed six times for 38 yards and a score in a losing effort.
Badin will face Wapakoneta on Friday.
EDGEWOOD 21, PIQUA 14 (OT)
Piqua moved out to a 14-0 lead in the half before Tavionne Crosby found the end for the Cougars to pull it to 14-7 with 14 seconds left until the halftime break.
Brick Barker found Riley Brown on a 23-yard TD connection that tied it up 14-14 with 2:52 left in the third quarter.
Then Crosby found the end zone from 9 yards out to give the Cougars the eventual victory. Crosby finished with 160 yards on 30 carries.
Edgewood will face Anderson on Friday.
WESTERN BROWN 39, MONROE 36
The Hornets took a 16-12 lead into the halftime break, and they also led 22-18 heading into the fourth quarter.
An explosive fourth quarter by both squads saw 35 points, but it was the Broncos who scored in the final seconds to secure the victory.
Monroe finished 7-5 on the season.
MONROE PHOTO GALLERY BY 6SPHOTOGRAPHY