ROSS TWP. — Kaden Rogers sat on the Ross Rams logo at midfield Friday night. He looked up at the handful of reporters waiting to chat with him and said, "Let's do it one last time."
As the senior offensive lineman began to get up, a smile masked his tears.
The Ross High football team just fell to Alter 35-21 in a Division III regional final on the Robinson Field turf, stripping away the load of momentum that resinated off the crew in maroon and gold.
"It was a great ride, man," Rogers said. "We got thumped by Badin (in Week 1), but we turned things around. I'm proud of our guys. I think we should have gone further, but honestly (Alter) was the better team. Hats off to them. But this hurts. It hurts bad."
"Sometimes the destination is the journey," Rams coach Kenyon Commins added. "With a year like this, and as frustrated as people are with the plight of the world, there got to be something positive for this community."
Ross (8-2) accomplished plenty of positive accolades during a season in question: Southwest Ohio Conference champions, an 8-game winning streak, first-ever playoff victory — and success.
"These seniors, just watching them grow," Commins said. "They matured to be great young men and heck of football players. Watching them mature as young men is pretty doggone special."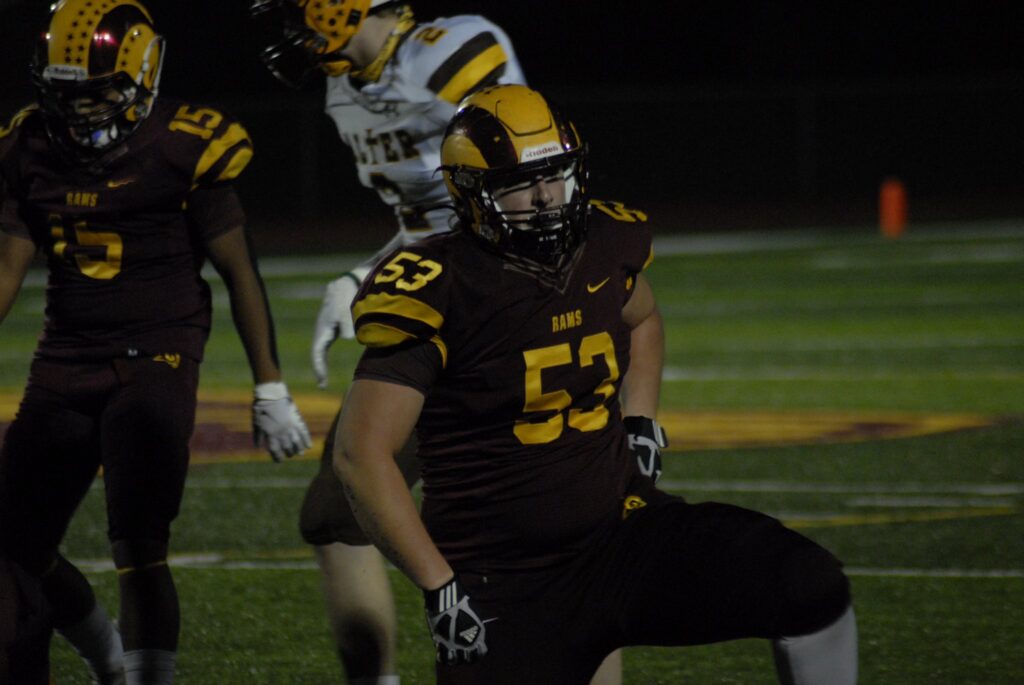 SENIOR QUOTABLES
KADEN ROGERS
"I didn't think that we were going to have a season. I'm thankful that we were able to have one. I'm thankful for my guys."
"That was the kind of thing we were wanting to do is be better than what we were last year. And that's big props to our coaches. We showed up every day, and they were the ones who gave us hope every day. There was a point where they sat us down and told us that we didn't know if we were going to play. They just kept pushing and kept pushing. We got the season, and we just ran with it. Big props to our coaches and the leaders that we've got. I'm proud of them."
"This was my life, man. This is why I show up every day. This is how I get through school. I go to bed thinking about it. I fall asleep with a football in my lap. It's everything. It stings having to leave it. I think we left this program in good hands."
"Stay focused. We've got the coaches here. We've got the offense to win championships. Get in the weight room and grind it. It will translate itself to the field. That's how it always has been."
TANNER MEALE
"The history that we made was amazing — first-ever SWOC champs, first-ever playoff win. Those are going to stick out the most about this year. But to me remembering every day that I came in here and all of the smiles and all of the hard work put into this. All of the memories that I was able to make with my second family. All of the love that we have for each other, that's what is really going to stick out the most for me."
"For the guys coming up, they just have to listen to their coaches. Working hard. It's never going to be as bad as you think it is. The work you put in, you will get back in rewards, wins, benefits and lessons learned from the game of football. Put your head down and keep going."
CJ BOZE
"Like we always say around here, 'Work.' It will always pay off in the end. I promise. You may think that you are nothing, or you may think you're too small of a school, or you may constantly hear, 'Oh, Ross? What?' At the end of the day, it's going to be who works harder."
"My relationships with all of these kids is absolutely crazy. I feel like I could just walk into any one of their houses and just be a part of their family. We're all just so close. I really don't even know what else to say about this year and these guys. It's truly been amazing."
CODY SMITH
"This was a great ride. I've been injured all year with my thumb and my hip, but I wanted to come out here and play for my brothers. This is literally my second family, and I'm going to miss them all — even the freshmen. I just want the freshmen to be great. I want them to go farther than we did. I don't want them to experience loss at this point of the season like we just did — it sucks, bad."
"From the start of the season, I didn't think we were going to go this far after our first loss. But we just became family, and we became the strongest thing ever. It was a good ride."
"Take every rep like it's your last."