MADISON TWP. — The Jessie Hubbard coaching era of Madison High football will officially kick off on Friday.
And with enough practice and preparation under the belt during an abnormal preseason due to the pandemic, the Mohawks' expectations are able to run high.
"Our kids are working hard," said Hubbard, who came from New Miami to fill the vacant coaching position when Ricky Davis left during the winter. "At this point, I don't expect anything less than a league championship.
"The guys are finding out that it starts with the small things, like keeping your locker room clean, cleaning up after yourself," Hubbard added. "Everything we do it represents our program, and as long as our guys are here, they're going to be pushed to do the best they can do."
Madison, which went 5-5 overall and 4-2 in the Southwestern Buckeye League, opens the season up at Preble Shawnee on Friday, Aug. 28 at 7 p.m.
PLAYERS TO WATCH
Devin Oligee — The senior linebacker received all-league, first-team accolades last season. He will likely see some time in the offensive backfield as well. Oligee registered two forced fumbles, three fumble recoveries and an interception last season.
Noah Perry — He's a senior four-year starter who is the glue that ties the offensive line together. Perry received all-league honorable mention last season, according to Hubbard.
Chanler McCullough — He's a senior who volunteered to move from tight end to offensive tackle, according to Hubbard. "He's got strong hands and can do the job in the trenches."
Preston Brown — The junior will start on the offensive line for the second year in a row.
Justin Schaeffer — The junior linebacker is "way above his expectations. He's really coming along," Hubbard noted.
Gavin Turner — The senior linebacker is expected to make some plays and plug some holes.
Alex Rumping — He is a senior strong safety who received all-league, honorable mention honors in 2019. Hubbard said Rumping was dubbed a team captain.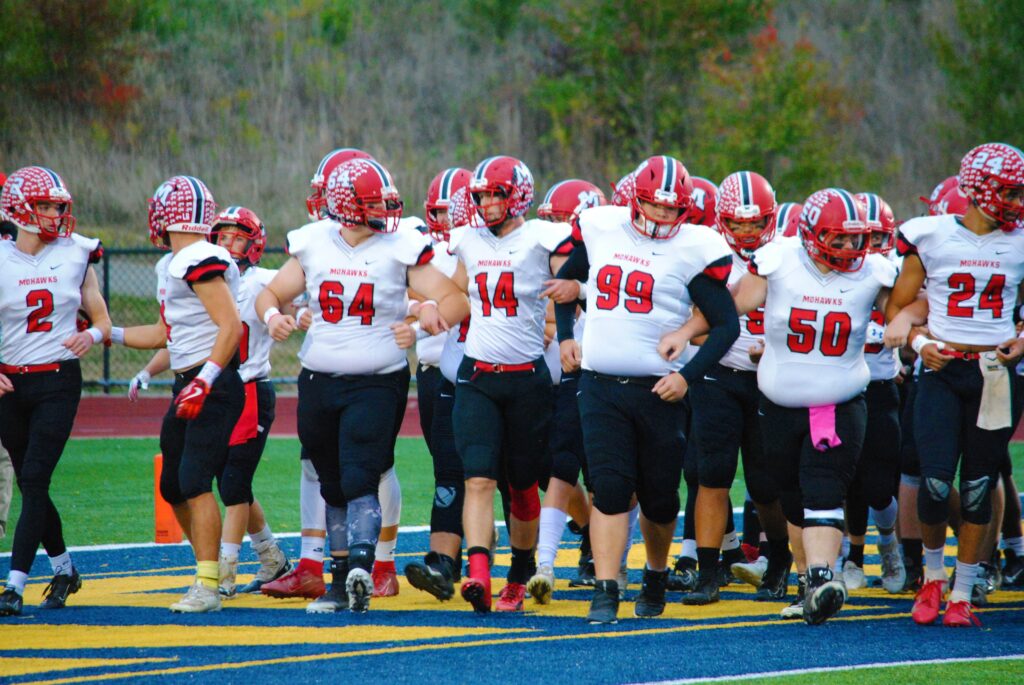 BACKFIELD FRENZY
Hubbard said the offensive backfield could see a plethora hands touching the ball. In the mix are running backs Logan Gibson (junior), Evan Cox (senior), Justin Gray (senior) and Devin Oligee (senior).
Gibson rushed for 544 yards rushing and four touchdowns as a sophomore.
QUOTABLE
"When we (the new coaches) came in, it was a like a tornado went through," Hubbard said. "About 90-percent of the guys have accepted it. And the other guys, we're getting through to them in order to get them to understand that we need to work hard to get to where we want to be."
"We've got a good group of seniors and a lot of depth," Hubbard said. "We can be extremely competitive if we stay healthy and not lose any of our kids throughout the season."
IN THE KNOW
Two transfers from Edgewood in Chase Doucette and Jake Valerio are expected to play a dominant role on the field this year, Hubbard said. … Zach Potter, who is a sophomore transfer from Fenwick, is a "big guy who will play some tight end and defensive end," Hubbard said. … Junior Dontai Pendleton and sophomore Damario Pendleton, who are brothers, are "two terrific kids who really work hard. These guys make everyone better around them because of how hard they work," Hubbard said.
KEY GRADUATES
Connor Blaylock, Luke Hughes, Korbin Kilbarger, Jake Edwards, Gabe Higgs, Quincy Brown,
2020 TENTATIVE SCHEDULE (6-game)
Aug. 28, at Preble Shawnee
Sept. 4, at Milton Union
Sept. 11, Dixie
Sept. 18, Carlisle
Sept. 25, at Northridge
Oct. 2, Monroe