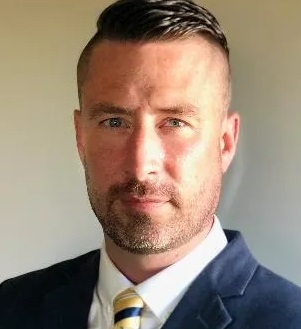 MONROE — The Monroe Local Schools Board of Education approved the hiring of Chad Adolph as the program's next girls varsity basketball coach at its Board of Education meeting on Monday night.
Adolph grew up in Indiana where he was a four-year starter for Angola High School's varsity basketball squad and was ranked by Hoosier Basketball Magazine as one of the Top 100 in his class.
"I am extremely excited for the future of our Girls Basketball Program under Chad's leadership," Monroe athletic director Eric Silverman said in a release. "Chad is a natural leader and is an incredible person of high character who truly believes in using the game of basketball to prepare young women for success both on the basketball court and in life.
"Chad's vision for girls basketball in the Monroe community stretches well beyond grades 7 through 12 as he genuinely values the importance of working collaboratively at all levels to develop a program that spans from the youth levels to the Varsity team," Silverman added. "Chad's background and experiences have prepared him well for this opportunity and I'm looking forward to the future of our Girls Basketball program under his leadership."
As a player, he became a member of the school's 1,000 point scoring club and helped to lead his team to the Elite 8 in the state tournament his senior year. Adolph earned many honors as a player, including be named All-Area, All-District and an All State Honorable Mention selection.
Adolph was recruited to play collegiately but accepted full academic scholarships that allowed him to become the first in his family to graduate college.
Adolph graduated Cum Laude from Trine University in 2003 with a Bachelor's in Business Administration with a major in Accounting.
Adolph has been coaching basketball at various levels for the past six years, most recently serving as the girls junior varsity basketball coach at Monroe. He is an NCAA, NFHS, and USA Basketball certified basketball coach.
"I am honored and excited the Board of Education and Administrators at Monroe Local Schools have given me the opportunity to lead the girls basketball program," Adolph said in the press release. "I am excited to share the sideline with a great coaching staff as we strive to continue building our program to be the best place to play girls basketball centered around our core values of: Together, Tough, Accountable, Selfless and Thankful to transform our players into strong and confident women for life.
"We will be dreaming big, starting small and ridiculously faithful to creating a culture where players adopt the mindset that talent is a gift and greatness is choice that requires dedication to training at elite levels," Adolph added. "We want the identity of our program in one word to be described as TOUGH. We will be working to build a defensively focused team which limits turnovers offensively, rebounds the basketball, and sprints the floor in transition,"
Adolph lives in Monroe with his wife Kristen and two children, Emma and Ryan.
There will be an informational meeting for all student's currently in grades 6 through 11 and their parents on Thursday, April 25 at 7 p.m. in the elementary cafeteria.