HAMILTON — Cooper Matthews was directing positive vibes to his teammates the entire practice last Thursday.
The Hamilton High School senior guard was making sure things were going the way they were supposed to go.
And even though it was just a practice session, Matthews said the Big Blue won that day.
"I want to give 100 percent effort in everything," Matthews said. "By being a hard worker and a leader and setting an example for everyone else — I feel like if I'm doing that, everyone is going to work hard with me.
"If I'm trying my best, I'm hoping it rubs off to everyone to want to try their best," Matthews added. "Winning is the main goal for me. That's all we should be worrying about."
That type of mindset runs in the Matthews family.
Matthews, who averages a team-high 18.9 points a game, is the Greater Miami Conference's third leading scorer.
"When I was young, my dad would coach me at the Salvation Army," he said. "He coached me for a while. That had me fall in love with the game."
Matthews has had a lot to learn from, too. His father, Ross, played on the 1991-92 Lakota state championship team.
That alone was inspiration for Matthews to want to succeed as a basketball player.
"I've heard a lot of his stories back when he played. I mean he's a state champion. Who doesn't want to be a state champion?" Cooper Matthews voiced. "I've listened to his stories and how he loved basketball and how he loved to win. It's driven me to want to win and be good at basketball."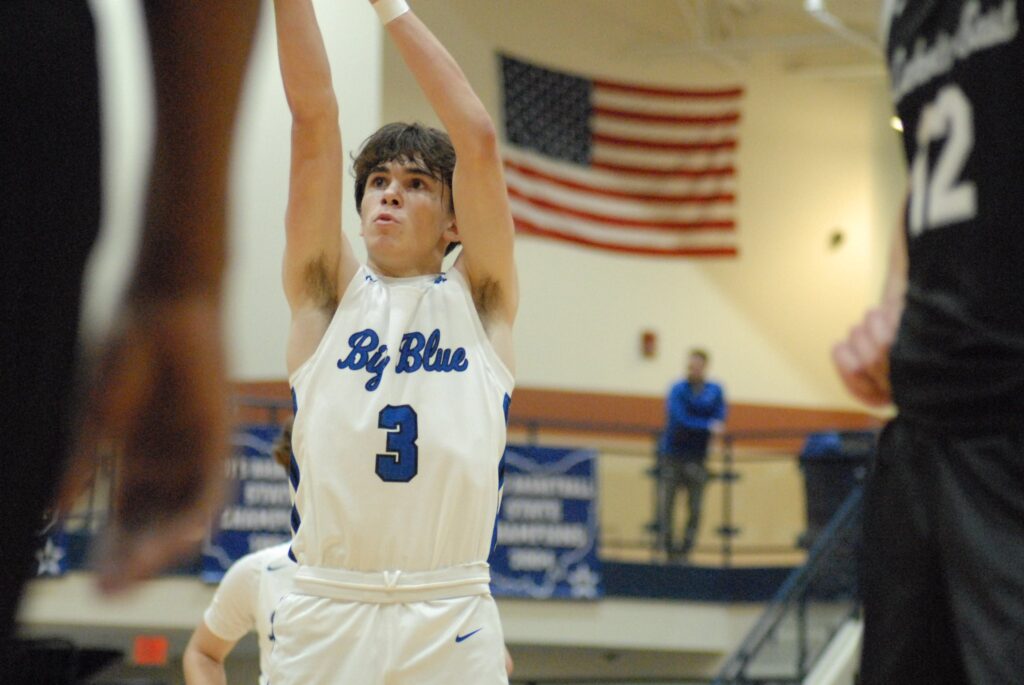 Hamilton coach Kevin Higgins said the contributions that Matthews provides for the Big Blue (7-8 overall, 3-7 GMC) are instrumental to the team's success.
"We expect a lot out of him," Higgins said. "He's really our one experienced guy that came back this season. He's shown that he can score. We expect him to do a lot of things and handle the ball a lot."
Higgins said Matthews is more than just a scorer. He ranks second in the GMC in assists by dishing out 3.8 a contest, and he also pulls down a team second-best 3.9 rebounds a game.
"He's got to do a lot of different things, but he's got to score with the ball for us to be successful," Higgins said. "He's got a lot on his plate. … He's highly competitive. He's a big key. I think we've played a really difficult schedule and have been in it with a lot of good teams. We just have to flip the page, and he's going to be a huge part of it."
Matthews was against Princeton, one of the top teams in the area.
He said he had to help the Big Blue bounce back after their worst performance of the season against Lakota East, a 54-31 loss at home on Jan. 3 — which he took personal.
"We played terrible against East," Matthews recalled. "We were just bad. Obviously we had to come out and play hard the next game against Princeton. I just ended up having a magical night really."
Matthews said he remembers hitting his first layup, and then the next possession down the court, he drained a 3-pointer while getting fouled in the process. He hit the free throw for a four-point play.
"I felt like I knew it was going to be a big night," Matthews said.
And it was.
Matthews went on to score a career-high 39 points in an 87-77 loss to Princeton on Jan. 6, the second-best scoring performance in Hamilton history behind Norm Grevey's 42-point game during the 1984-85 season.
"I'm mad we didn't get the win," he said. "I just wanted to win really. It's all about winning for me."
"The floor opened up for him against Princeton," Higgins chimed in. "I think he just started feeling it. He's got the ability to be a streaky scorer. He scores in bunches. When he gets it going, he really gets it going. When he gets rolling, he can score some points really quick. I think he just kind of exploded that game."
But Matthews didn't relish on his big game — or the loss — for too long.
"This last stretch of the season, we have to pull out some wins," Matthews said. "We've come along so well. We're a younger team really. We started off the year young, but I think we've bonded as a team and molded."
"We just need to keep moving forward," Higgins added. "Cooper is going to be a big key to that."
Matthews said as the postseason approaches, he can't help but think about Big Blue's 45-40 loss to Moeller in the second round of the tournament last season.
"I feel like everyone is beatable. We've come down to the wire with so many teams," Matthews said. "That's how I felt last season. We should have gone far."
And Matthews said he's ready to step up to the plate to see Hamilton is in the best position possible for that to happen.
"At the end of the day, basketball is just a game," he said. "I play the game like I know how because I love it. I'm not playing for myself. I'm playing for everybody. I want to win as a team. I want everybody to know what winning feels like.
"I feel like there is a reason I'm a leader on the team. If people see me being a leader, then I hope that makes everybody else want to be a leader. And what I hope comes from that is winning."