SHARONVILLE — Thanks to two timely goals by Kailyn Dudukovich and a tight defense, the Lakota West High girls soccer team reigned supreme on Saturday. 
For the second time this season, the Firebirds defeated the Loveland Tigers — this time a 2-0 victory in a Division I regional title contest at Princeton.
"I'm really proud of our defense for holding in there," said Dudukovich, an Ohio State University commit. "They were on the attack a lot, and we buckled down and gutted out — a big shout out to them. Without our defense, we wouldn't have won this game."
Next up for No. 4-ranked Lakota West is No. 8 Dublin Coffman in a state semifinal bout on Tuesday, Nov. 5 at Springfield Evans Stadium at 7 p.m.
The Firebirds knocked off the Tigers 2-1 in a regular season opener on Aug. 20. 
"The ugly part of soccer is sometimes it's your night on the offensive end, and sometimes it's not," Loveland coach Tom Kelley said.
Though Dudukovich was the hero, Lakota West (20-0-2) did not possess the ball as often early on. Loveland's defense played Lakota West tight. There were very few opportunities for the Firebirds, and the few they had were close shots that were sent wide of the net.
It wasn't until Brooke Brockman broke free, passing the ball to a streaking Dudukovich for a 10-yard strike that gave Lakota West the lead 1-0 in the first half
 "We knew that if we could get into the transition, that is where we would be successful," said Dudukovich, who now has 46 goals on the season. "I got a great pass and just used my speed."
In the first half, the Tigers (16-1-5) constantly attacked the Lakota West backline defense, coming close on several corner kicks. For every kick that Loveland attempted, there was a Firebird defender right there. If a kick did get past them, it was goalkeeper Madison Prohaska who would save the day. Prohaska now has now has 10 shutouts on the year.
In the second half, Lakota West made adjustments to counter Loveland's attack and would lead to more possessions and opportunities to extend its lead.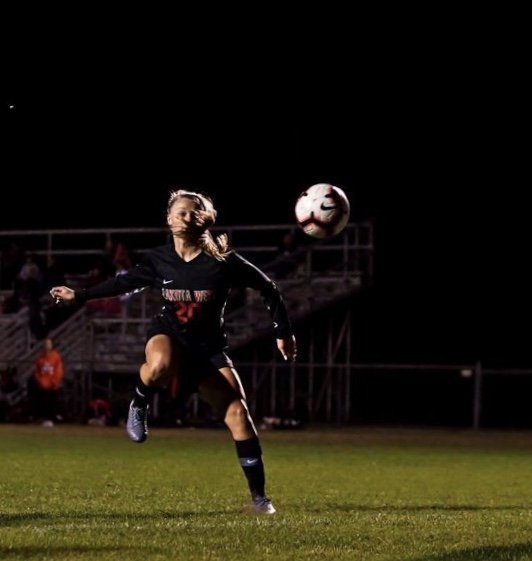 "The biggest thing is we were just holding way too many numbers back in the first half and not getting enough (players) up," Lakota West coach Brigit Reder said. "We were having too many gaps between our frontline and midfield. We pushed numbers (players) up quicker to support the attack and maintain our possessions."
With this match being as tight as it was, it had more than its share of moments where officials made some calls that both teams deemed questionable — including a goal that was waved off. 
It seemed as if the Firebirds had scored their second goal. Lakota West was in place for a corner kick, and the ball bounced off the head of Dudukovich. Eva Dudeck blocked the header, however the ball bounced to West midfielder Savannah Grubbs who made the kick. The Lakota West players and fans erupted in cheers, but the officials called off the goal.
The call could have deflated the Firebirds but it didn't. On the very next attack, Grubbs found Dudukovich for her second goal of the night — ending any chance of a comeback.
"We knew that Loveland would be a quality team," Reder said. "We did exactly what we needed to do, I'm extremely proud of them."
■ Lakota East 2, Moeller 1: The Thunderhawks advance to the Division I state Final Four after their regional championship victory over the Crusaders on Saturday at Princeton. It is the first regional title in 20 years for Lakota East. Ethan Seppi and Nolan Earl notched goals, while Brady Shapiro and Parker Crowell provided the assists. Lakota East takes on Olentangy on Wednesday, Nov. 6 at 7 p.m. at Xenia.
■ Alter 2, Monroe 0: The Hornets fell to the Knights in a Division II girls soccer regional final at Lebanon on Saturday. Monroe finished with an impressive 20-1 record, the best season and furthest playoff push in Monroe girls soccer history. PHOTO GALLERY HERE