LIBERTY TWP. — Jon Kitna got a taste of what the atmosphere surrounding Lakota East High School athletics was all about. 
The Thunderhawks boys basketball team knocked off Withrow in a convincing postseason victory earlier this week, and Kitna immediately knew he was right at home — again.
"That was a huge vision point for me — seeing that in person," he said.
A conversation with East basketball coach Clint Adkins made it an easy decision for Kitna to want to join the Thunderhawk community.
Talking with athletic director Jill Meiring and principal Rob Burnside more than sealed it.
Kitna, who was officially named the new head coach of the Lakota East football program on Wednesday, said he's aware that winning times are wanted on the gridiron.
Some even say that they're needed.
Either way, he's here for it.
"We're going to do football at a really high level," Kitna said. "I think kids should be excited to be here."
Kitna replaces Rick Haynes, who stepped down on Feb. 1 after 13 seasons at the Thunderhawk helm. East went 70-65 under Haynes' watch.
The Thunderhawks' best finish within the Greater Miami Conference was a runner-up 9-3 record in 2014. Lakota East finished 3-7 this past fall and missed out on making the playoffs.
Meiring said she's excited — and ready — for Lakota East football to reshape its brand.
How?
"His vision about culture," Meiring said. "It's almost like a culture club where the kids can learn to be better men and student athletes. That appealed to me. It's something that we preach all the time anyway.
"But to have someone come in as successful as Coach Kitna was — and is — and how he shares the same mentality and vision is exciting."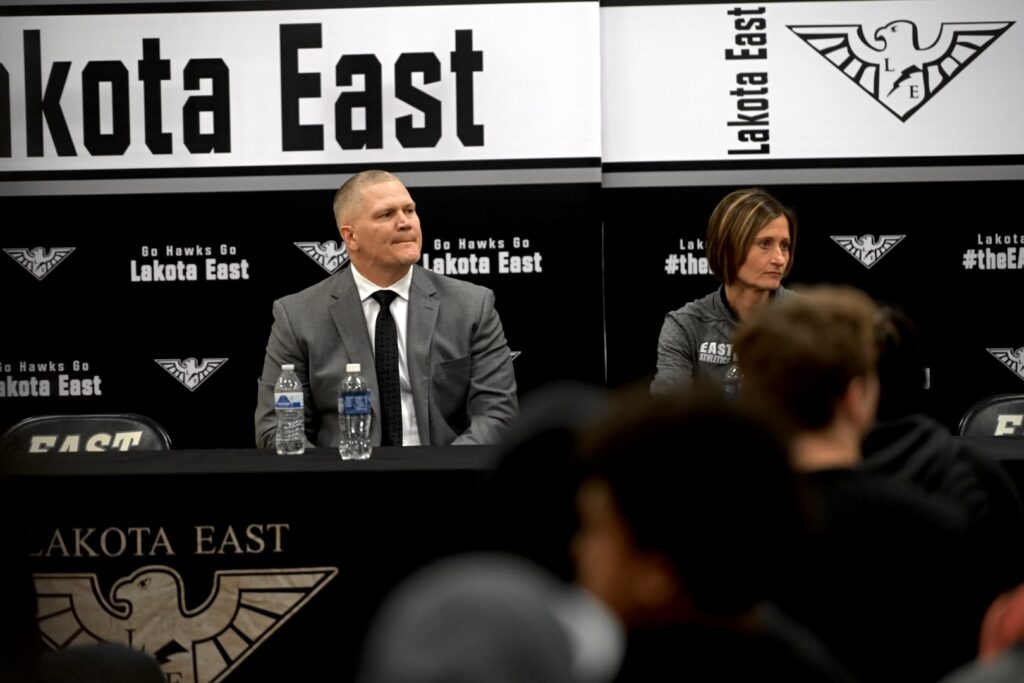 'The process' 
When Haynes resigned at the beginning of the month, Meiring didn't have to look long.
"We thought, 'OK, this is our opportunity to see if we can go after a big fish and see if it works out,'" she said.
Burnside had known Kitna through former coaching and family connections.
"So (Burnside) reached out to him," Meiring said, "and Kitna said, 'Yeah, I'm interested. Let's talk.'"
Meiring was able to get Kitna in town, and they did a walkthrough around the field house and the stadium.
"I think we're both on the same page with the vision of the program," Meiring said. "I think that was exciting for him.
"So, we got him."
"After coach Haynes had resigned, that's when we received communication," Kitna chimed in. "It didn't take long at all that God was doing something — opening a door that he was calling us to our season of life."
Once word started seeping through the cracks that Kitna landed the position, Meiring said reception around campus was mixed.
Good, but mixed.
"First, it was shock, and then it was excitement," Meiring said. "All the kids knew. You can't keep anything a secret.
"They're all so excited to learn from him and his passion for the game," she added. "I think the kids are going to buy into this.
"It's going to be a little different style of Lakota East football, and I think that's appealing to some people."
'A professional resume' 
Kitna's pro football status was appealing, too, and an easy sell for the Lakota East administration.
"We wanted something that would turn some heads," Meiring said. "Obviously, Lakota West is our big rival, and they've done a great job of turning their program around. We want to be in that same talk.
"We knew it had to be a really good hire," Meiring added. "If we hadn't gotten Jon, we had a couple others we were going to look at next.
"But the fact that we got him is pretty cool. He's here."
Kitna, 50, played 14 seasons in the NFL with four different teams.
He went undrafted out of Central Washington in 1996 and spent his first four seasons with the Seattle Seahawks.
Kitna played for the Cincinnati Bengals from 2001-2005 and was named the NFL's Comeback Player of the Year. He lived in Liberty Township during that span.
"It's surreal to be honest," Kitna said about coming back. "We left here in 2005, but we come back every year. We have adopted boys that live here, and their families graduated from East. Their wives graduated from East. We have seven grandkids that live in Ohio.
"Our best friends in the world live here and our kids grew up together," Kitna added. "We always come out this way once a year."
But it's his coaching resume that has him here to stay.
Kitna coached high school football the last three seasons at Burleson High School in Burleson, Texas — which is located near Dallas. Along with leading the team to the postseason, he helped raise the program's grade-point average from 1.4 to 3.2.
That jumped out to Meiring.
"The GPA increased," she smiled. "He understands that sometimes it's more about being students. That's a huge benefit."
Prior to Burleson, Kitna served as the Dallas Cowboys quarterbacks coach in 2019. He also coached high school football in Phoenix, Ariz., (2018) in Waxahachie, Texas (2015-2017) and his alma mater Lincoln High School in Tacoma, Washington (2012-2014).
"They're wanting to be one of the best programs in the state of Ohio," Kitna said of Lakota East's vision. "There's a commitment level to that. They've had programs here that have done that, so there's an understanding of what that excellence is like.
"It's exciting. It's going to be a challenge, but we're excited about it."
'Family affair' 
The entire Kitna family is thrilled, too.
"To be honest, all the other stuff (outside of football) was great," Kitna said. "And it fit what we thought my wife and I were looking at for our family. We're all excited."
Especially Jon Kitna's youngest son, JT Kitna — a standout quarterback who will be a junior next year.
"We will be bringing him along," Jon Kitna said of his son. "He feels that this is the place that God has called for our family, so he is excited to be out here. He's seen it and got to be around it a little bit. He is fired up."
JT Kitna already has numerous Power 5 offers and is likely to provide a boost in the offensive scheme at Lakota East.
"I'm really excited," JT Kitna said. "I've moved around a lot, so it's not something too new.
"It's always good to get a refresher and see new faces and meet new people. Just to have new friends. I have friends all over the country now."
When asked what fans can expect when he hits the field, JT Kitna said, "I'll toss the ball around and use my legs to hurt the defense. You'll see excitement."
Lakota East will likely utilize a pro-style offense that will fit his players best, Jon Kitna said.
Kitna noted that he knew the Thunderhawks were married to the triple option under Haynes, but said he isn't quite as knowledgeable about it.
"There are a lot of coaching philosophies out there," Kitna said. "If I don't know it, I don't think I should teach it. I'm going to do what I feel we will do well and what I can teach.
"But I've been asked a lot about that," Kitna added of Lakota East's potential offensive scheme. "I've run everything that you can think of from the pro-style stuff. That's what I spent most of my life doing. And by that, we're going to do what suits the young men in this program."
There's no middle ground to it, either, according to Kitna.
"Our job on offense is to put the ball in the endzone," he said. "I don't really care how it gets there — I really, really don't. I have zero ego when it comes to that. As a staff, that's what we're trying to put together.
"We think it's a team thing. Defensively, we're going to attack you. We're going to attack you on offense. We're going to attack you on defense. We're going to attack you on special teams. We don't want you to ever feel like you can take a breath.
"It takes time to build it, and we're excited and committed to the building process."
'Quotables' 
Kitna made it clear that high school football, in his eyes, stems far beyond the gridiron.
"We're a leadership factory," Kitna said. "When you talk about high school football in America, we believe it's a great opportunity to instill some of the characteristics and traits that you need to be successful in life. We really try to do that. With that, it's a transformation in coaching philosophies. We're really trying to get to know who these young men are, who their families are, what their upbringing is like, what their dreams and aspirations are.
"I've started to get this response from players and their families lately, 'Well, Coach, I'm going to quit football because I don't have a future in it.' My thing is that nobody has a future in it," Kitna added. "Even if you play until you're a pro, you're going to retire before you're 30 years old. There's no future, it's just what you're doing now.
"We're talking at the high school level," Kitna continued. "Let's just give them the greatest experience they can have at this level. Now, along with that, we're going to be excellent at football. We're going to be a team that's tenacious, coachable and resilient — assertive leaders.
"We don't believe that we're here to be served. We're here to serve. We want to use the game of football at the highest level to try and do those things. That's why I coach high school. I don't want kids to lose sight of the character things that are necessary to keep us in position for success. The transformational coaching model is why I wanted to get into high school football — to use this game to instill those things."