MONROE — You could hear Josh Hegemann peel off his helmet. It was stuck, much like him and his high school football teammates have been playing — with togetherness.
"It's frozen," the Badin senior said with a crisp smile.
Hegemann, an allusive Alex DeLong, a bulldozing offensive line and a stout defense froze Alter in its tracks for the second time this season in the Rams' 38-21 Division III regional semifinal victory on Friday at a bone-chilling Monroe Hornet Stadium.
"He had a heck of a saying after the Ross game: 'Win when it counts,'" Badin coach Nick Yordy said of Hegemann, who has been showcasing his playmaking abilities all season long from every phase of the game.
Friday was no different for Hegemann, who caught an 8-yard TD pass from Zach Switzer to give the Rams a 17-7 lead heading into the halftime break.
Hegemann also snatched an interception and returned it 10 yards to the house with 1:03 left in the third quarter, giving Badin all the momentum it needed to set up a Division III regional final against Trotwood-Madison (9-3) on Friday at a site to be determined.
"Again, Josh Hegemann. What more can you say about him?" Yordy noted.
Badin (9-3) has now won nine of its last 10 after beginning the season 0-2.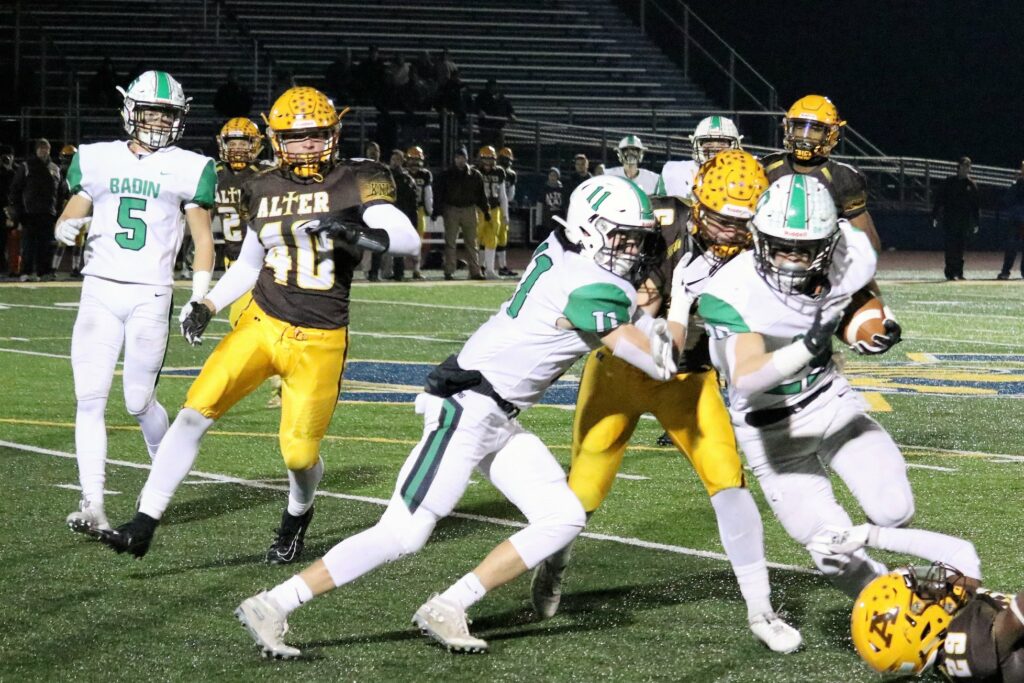 "We knew it was going to be a tough match," Hegemann said. "We knew it wasn't going to be the same game as it was in Week 6 when we pretty much blew them out. We knew they were a lot better team and that they had developed through the second half of the season.
"We just have to stay with our philosophies," Hegemann added. "We stuck to what we knew, and as an end result, we got the win."
Badin knocked off its Greater Catholic League Co-Ed rival back on Oct. 4 in an overwhelming 42-7 win at Virgil Schwarm Stadium. Friday's win marks the first time in school history that Badin has beat Alter two times in one season.
The Rams hadn't defeated the Knights at all since 1999, a 22-game losing streak.
"I think they'll represent the GCL with everything they've got," Alter coach Ed Domsitz said of Badin. "They played as well as I thought they would. I hope they wouldn't, but they did. I think Coach (Yordy) has been putting together this team for a while, and it shows. They executed very well."
DeLong ran wild, thanks to the bruising work of the Rams' offensive line, for 239 yards and a score on 31 attempts. Hegemann finished with five receptions for 35 yards and a TD to go along with his pick-6 that put the Rams on top 24-14 heading into the final period.
"That's all (punter) Rocky (Anzalone). He pinned them down at the 3," said Hegemann, who snatched his interception moments after Anzalone's punt. "Our defensive line and linebackers stuffed them the first two downs. I was able to jump on the ball and jump the out route and take it to the house."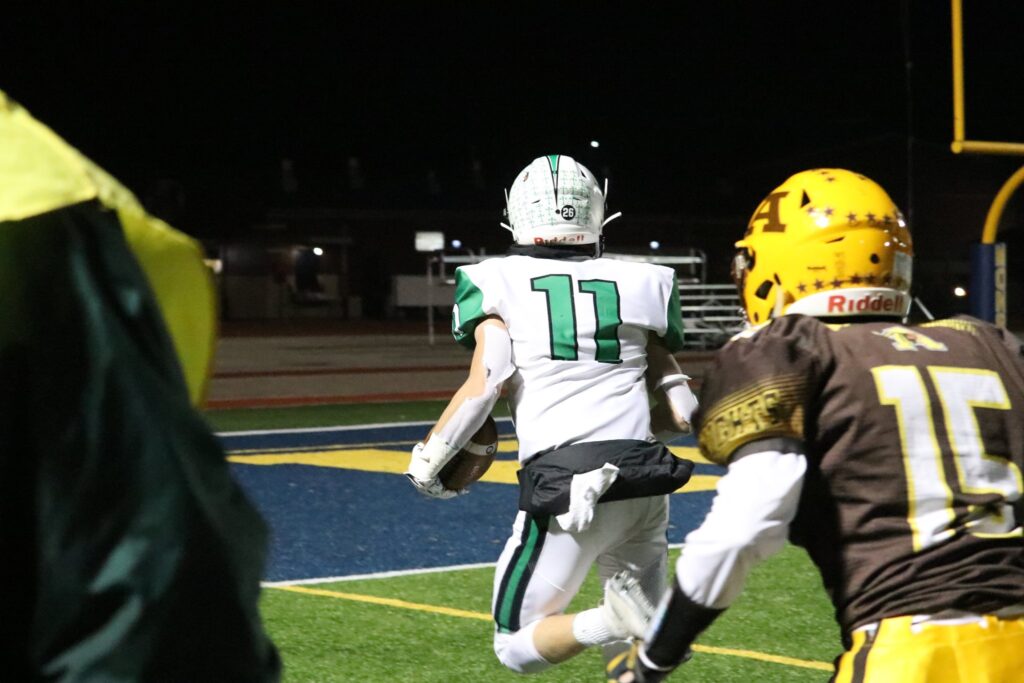 Evan Schlensker led the Badin defense with eight total tackles.
"This is going to have to be a tradition," Hegemann said of beating Alter twice in the same season. 'This is our motto: 'Return to dominance.' We're going to return to dominance and keep beating Alter."
Badin 3 14 7 14 — 38
Alter 0 7 7 7 — 21
First Quarter
BAD 04:10 34 field goal Michael Schweinefuss.
Second Quarter
BAD 11:45 Zach Switzer pass complete to Marshal Flaig for 21 yards. (Point after kick by Michael Schweinefuss is good.)
ALT 10:14 Kale Steneman pass complete to Seth Morris for 56 yards. (Point after kick by Jack Ruffolo is good.)
BAD 06:06 Zach Switzer pass complete to Joshua Hegemann for 8 yards. (Point after kick by Michael Schweinefuss is good.)
Third Quarter
ALT 08:34 Kale Steneman runs for 3 yards. (Point after kick by Jack Ruffolo is good.)
BAD 01:03 Joshua Hegemann interception touchdown return. (Point after kick by Michael Schweinefuss is good.)
Fourth Quarter
BAD 11:52 David Schweinefuss interception touchdown. (Point after kick by Michael Schweinefuss is good.)
BAD 05:35 Alex Delong runs for 21 yards. (Point after kick by Michael Schweinefuss is good.)
ALT 03:17 Brian Shane runs for 11 yards. (Point after kick by Jack Ruffolo is good.)