HAMILTON — The Hamilton High football team soaked in the opportunity to host a playoff game at Virgil Schwarm Stadium for the first time in school history on Friday night.
Unfortunately for the Big Blue, that opportunity was met with disappointment, as No. 6 Hamilton fell to the No. 11 Moeller Crusaders 43-27 in the opening round of the Division I playoffs.
"We are a city in Hamilton, I'm proud of our city, I'm proud of our kids. They grew up wanting to go here," Hamilton coach Nate Mahon said. "We're a program, we're a community. I'll stand by my community and my city everyday."
The Crusaders had a quick start, running a hurry up offense scoring on their first drive. Moeller running back TJ Rotello ran it in from 1-yard out for a touchdown to start things off. The Crusaders tacked on the two-point conversion on an insane play that led to Tony Mock making the catch.
Despite Moeller's 1-5 record coming into this game, the Crusaders came out fast and ready — exceeding the expectations of where they were seeded.
"Coming into this game this wasn't the record that anybody envisioned or hoped for," Moeller coach Mark Elder said.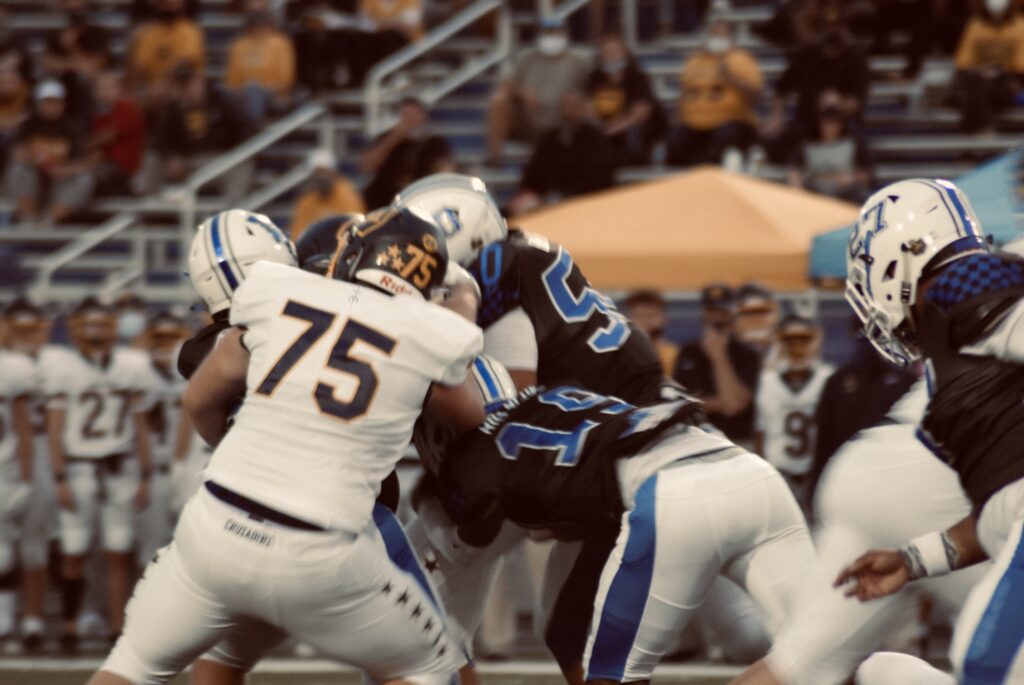 Hamilton was able to keep pace, scoring on its first drive when Malik Verdon's number was called for the quarterback keeper to get within one.
The two teams would trade touchdowns on the next three combined possessions. Rotello scored again from 2 yards out. Then Verdon hooked up with Keyshawn Stephens for a 19-yard catch. The score was 15-14 with 8:47 to go in the second quarter. 
Moeller's next possession was a promising one, driving the ball down field. Hamilton's Breon Ishmail forced running back Daniel Dunlop to fumble, and Kaden Bennet recovered it. Two plays later, Moeller linebacker Ryan Anderson forced Ishmail to fumble after catching a pass from Verdon.
Moeller quarterback Noah Geselbracht found his tight end Josh Kattus in the middle of the Big Blue defense for an 11-yard touchdown pass. On their very next possession Geselbracht hooked up with receiver Tennel Bryant for a 60-yard touchdown. Bryant who had a game high 13 catches for 197 yards receiving was the difference maker for Crusaders' offense. 
Those two scores put Moeller up 29-14 before the half. Hamilton had an opportunity to get to within one score, but penalties and a stout Crusader defense forced them to turn it over on downs. 
Hamilton received the ball to start the second half eventually scoring. Verdon was a huge factor on this drive with his legs and arm. On third and 21 Verdon floated the ball up to receiver Kenny Ware to cut Moeller's lead to eight.
The Big Blue faithful became hopeful of a comeback but that was soon erased when Moeller scored again on its next possession, a two-yard Jordan Marshall touchdown. Hamilton couldn't come up with much offense until a late fourth quarter touchdown run by Verdon. Hamilton couldn't get any closer as Moeller didn't allow the Big Blue to make any type of comeback. 
"I think we are playing our best football, and we are certainly very excited to play next week," Elder said.
Moeller takes on Greater Catholic League South Rival Elder next week.