ROSS TWP. — Nick Brosius figured it was time to give Clint Moak the run support he deserved Wednesday.
Brosius singled Ray New across the plate in the top of the eighth, Moak had 11 strikeouts in a complete-game performance and the Hamilton High School baseball team knocked off Ross 1-0 in a Division I sectional contest.
"It's all about timely hits," said Moak, who ran his pitch count near the maximum 125 mark before fanning Nathan Jester to end the game. "Nick Brosius came up to the plate and had a big hit for us. … I was staying in until we won."
There's no time to celebrate for Hamilton, which travels to Milford at 5 p.m. on Thursday. Wednesday's game against Ross was pushed from Tuesday because of weather and unplayable field conditions.
"We're a better team than what our record indicates, and (Ross) is a very good team," Big Blue coach Joey Lewis said. "I think with Clint on the mound, we were evenly matched. If we could get some runs, I thought we would have a chance.
"I'm very proud and happy to beat a good team in the first game of the tournament," Lewis added. "It's a good momentum maker for us. We've been struggling to get wins. … I think this springboards us a little bit with some momentum."
Hamilton (9-17) snapped a five-game losing streak and ended a four-game winning streak — and the season — for Ross (20-7).
"If we execute and do the things we normally do, we're probably up 2-1 or 2-0," Rams first-year coach Brad Voegele said. "We just didn't do it. Those are the things we've done all year — move runners, get bunts down, things like that. It just didn't happen this time. I told the kids, 'That's just the way baseball goes.'
"You can't take away what we've done all year," Voegele added. "All the league wins. If you look across the city, there aren't a lot of 20 win teams. We should be proud. We beat good teams, and we beat good pitching. It didn't fall our way today, though."
Ross starting pitcher and senior Jeff Kist pitched seven innings of scoreless ball, striking out three. Rams junior Austin Parker went 2 for 3, while Ben Voegele and Nathan Bray each had a hit.
Davis Avery went 2 for 4, while Jordan Zapata, Lake Cundiff, Moak, New and Brosius each added hits for Hamilton.
New led off the top of the eighth with a single and was sac-bunted to second by Ethan Stone. That's when Brosius stepped up to the plate with his game-deciding RBI single off Jester, who came in on relief.
"I was sitting fastball really," Brosius said. "The first pitch he threw a curveball in there. And that's not really what I wanted. I was waiting on the fastball — waiting on my pitch. And I got it, and drove it to right.
"I was so happy. My emotions went crazy."
FIRST-YEAR SUCCESS
Voegele said his first season at the Ross helm was filled with success.
"We did a lot of good things and changed up a lot of things," the coach said. "They bought in, every single one of them. Ross baseball is in a good place. We're going to be in a good place for a long time."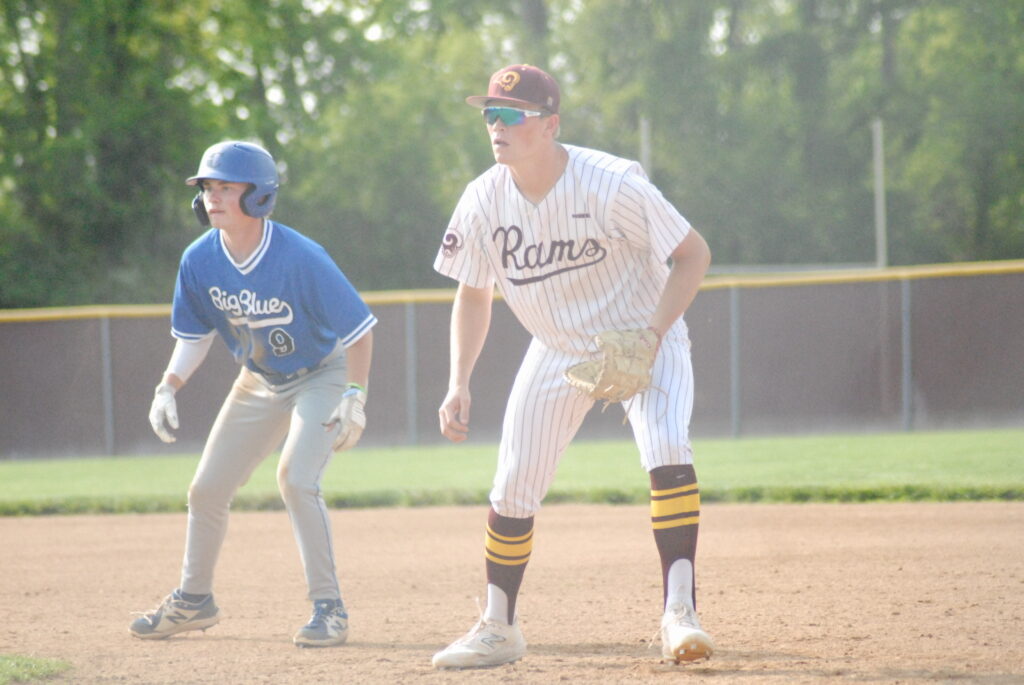 Other area tournament results:
LOVELAND 10, LAKOTA WEST 0
LOVELAND — Lakota West and Loveland were scoreless through three innings before the Tigers reeled off 10 straight runs in a Division I sectional contest on Wednesday.
Krishan Zoeller had the lone hit for Lakota West (9-17), which graduates seniors Mitch Bolden, Charlie Gilbert, Trace Holderbran, Grady Kehr and Noah Partin.
LAKOTA EAST 3, TURPIN 0
CINCINNATI — Lakota East has won four out of its last five, including a Division I sectional victory over Turpin on Wednesday.
The Thunderhawks (12-15) travel to Kings on Thursday.
CARLISLE 8, CIN. CHRISTIAN 1
CARLISLE — Cincinnati Christian saw its seven-game winning streak, and its season, end in a Division III sectional contest on Wednesday.
The Cougars (15-11) graduate seniors Alex Buschmann, Jack Henson, Nick Minacapelli and Alex Mullins.
MADISON 5, MARIEMONT 3
CINCINNATI — Madison got on the board early with three runs in the first inning on its way to a Division III sectional victory over on Wednesday.
The Mohawks (9-19) play at Madeira on Monday in a district semifinal.
FELICITY FRANLIN 14, NEW MIAMI 0, 5 INN.
FELICITY — New Miami saw its season end in a Division IV sectional loss to Felicity Franklin on Wednesday.
The Vikings (7-12) graduate seniors Kyle Hamblin, Gage Horn, Bo McGraw, Em Moffitt, Preston O'Neal, Daymeon Pennington and Josh Woods.
SOFTBALL
TAYLOR 2, BADIN 1
CLEVES — Taylor scored on a bases-loaded walk in the bottom of the seventh to beat Badin in a Division II district semifinal on Wednesday.
Rachel Nusky went 2 for 2 for the Rams, who got seven strong innings and eight strikeouts from pitcher Halle Klaiber. Badin (16-11) graduates seniors Erin Beeber, Allison Vess and Nusky.