HAMILTON — The Greater Miami Conference kicks off league play on Friday night, and Butler County gets a good taste of the action right away.
Lakota West and Hamilton square off at Virgil Schwarm Stadium at 7 p.m. in Week 3 of the high school football season, making this bout The Report's Radio Network Game of the Week.
Both have new coaches, and both are finding their mark in the early going.
Nate Mahon has led the Big Blue to their first 2-0 start since 2016, while Tom Bolden has the Firebirds sitting at 1-1.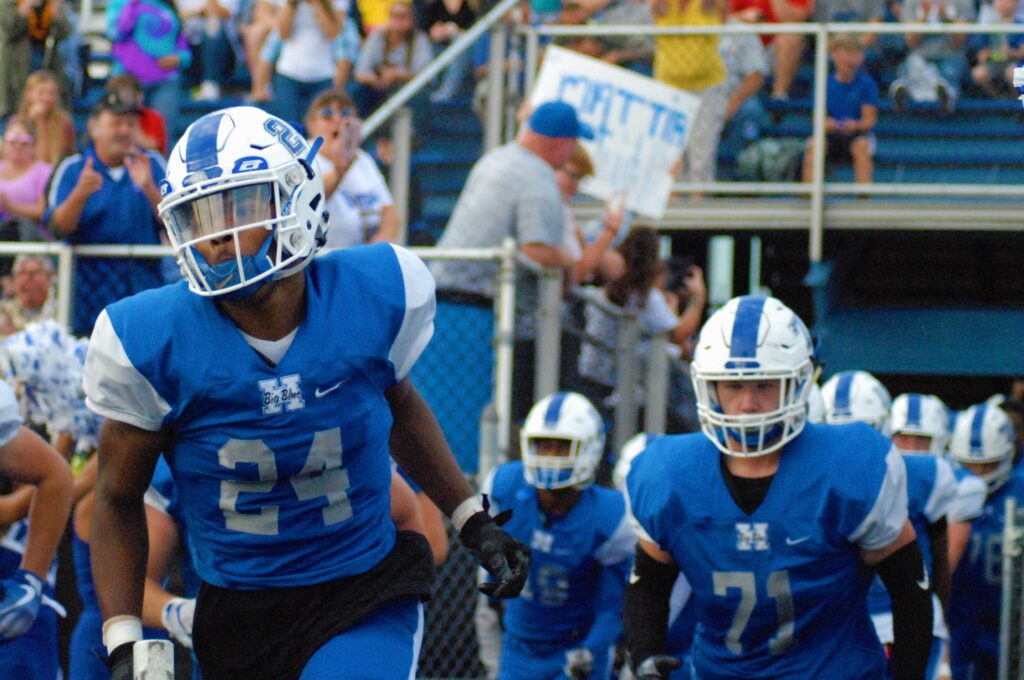 Leading the way offensively for Hamilton is the double-headed backfield in Kaleb Johnson and Keyshawn Stephens, who have amassed a combined 279 rushing yards and six total touchdowns. Big Blue senior Jayden Marshall leads the defensive attack with 15 tackles, including 2.5 sacks.
Lakota West quarterback Caleb Rao had a breakout game in last week's 30-15 win over Centerville. The junior rushed for 127 yards and two scores, while tossing for 77 yards and an additional score. Junior linebacker Jackson Kuwatch has 15 total tackles for the Firebirds.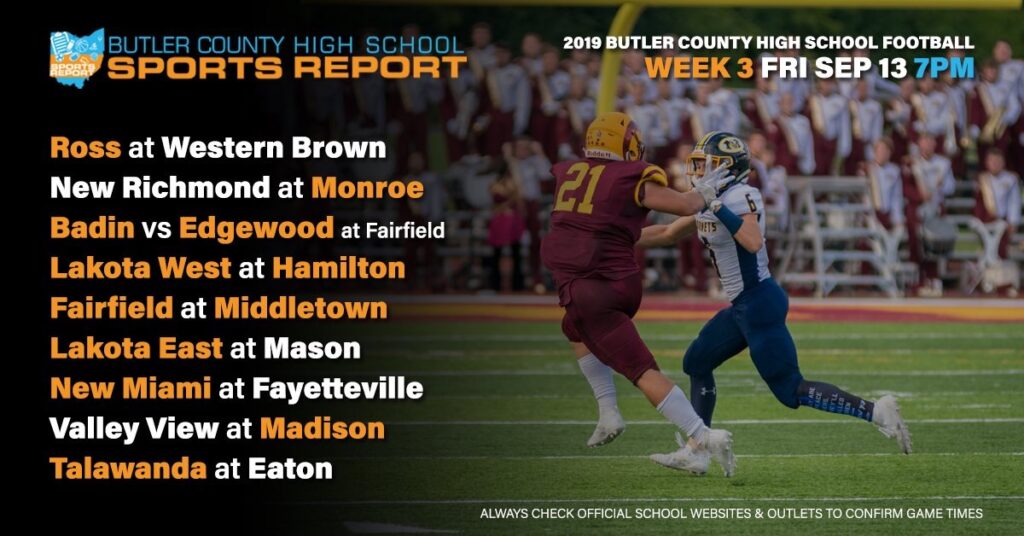 Other area contests to keep an eye on:
ROSS AT WESTERN BROWN — The Rams (2-0) are coming off a screeching 42-3 win over Monroe, while Western Brown (0-2) fell to Little Miami 41-6. All eyes are on Ross junior fullback Jackson Gifford, who has rumbled for 209 yards on the ground and five scores.
NEW RICHMOND AT MONROE — The Hornets (0-2) are looking to get some momentum going under first-year coach Bob Mullins. Senior TeJean Rice has Monroe's lone touchdown of the season, which was a 64-yard pass from Collin Deaton.
EDGEWOOD AT BADIN — The Rams (0-2) take on the Cougars (1-1) at Fairfield Stadium. "We're taking this with a week-by-week basis," Badin coach Nick Yordy said after his squad's loss to Talawanda. Franklin scored 10 points in the fourth quarter to take down Edgewood 20-10 last week.
FAIRFIELD AT MIDDLETOWN — The Middies (0-2) host the Indians (2-0) in a Butler County, GMC rival clash. "Springboro proved Friday night that they're a very good football team, and the positive takeaway from that game is that the mistakes we made can be fixed. For now, we're going to turn our focus to Fairfield," Middletown coach Don Simpson said of his squad's 37-14 setback to the Panthers. Fairfield got by Springfield 16-12 on the road.
LAKOTA EAST AT MASON — The Thunderhawks (1-1) picked up a 14-6 win over Fairmont last week, while the Comets (0-2) have fallen hard in their first two contests. TJ Kathman plunged in the end zone for both of Lakota East's scores in Week 2.
NEW MIAMI AT FAYETTEVILLE — The Vikings (2-0) will see their first true test when they face off against Fayetteville (2-0), which has outscored its opponents by a 66-16 margin. New Miami, which blanked Landmark 35-0 last week, has outscored its opponents 67-6.
VALLEY VIEW AT MADISON — The injury-laden Mohawks are sitting at 1-1 under new head coach Ricky Davis, while the Spartans are 2-0. Madison took down Reading 49-7 in Week 2, and Valley View beat Fort Recovery 16-13.
TALAWANDA AT EATON — The Brave (2-0) are coming off a 24-17 victory over Badin, which gave head coach Larry Cox his second win at the helm. Quarterback Adam Crank led a consistent offense last week, and the Brave will be looking for more of the same from him. Eaton (0-2) dropped its first two contests of the season.