FRANKLIN — In a time of uncertainty, there was football being played on a Friday night between division rivals to open up the 2020 season. All felt right with the world.
The Franklin Wildcats defeated the Monroe Hornets 17-0 in a Southwestern Buckeye League Week 1 matchup.
MONROE AT FRANKLIN PHOTO GALLERY
Up until two weeks ago, both teams weren't even certain that they would have a season. But thanks to Governor Mike Dewine's thumbs up, fall football was a go.
Franklin's opening drive began at the 50-yard line after a Tyler Woods 30-yard kick-off return from the 20. Four plays later, Wildcats running back Cyre Williams found the end-zone on a 1-yard touchdown.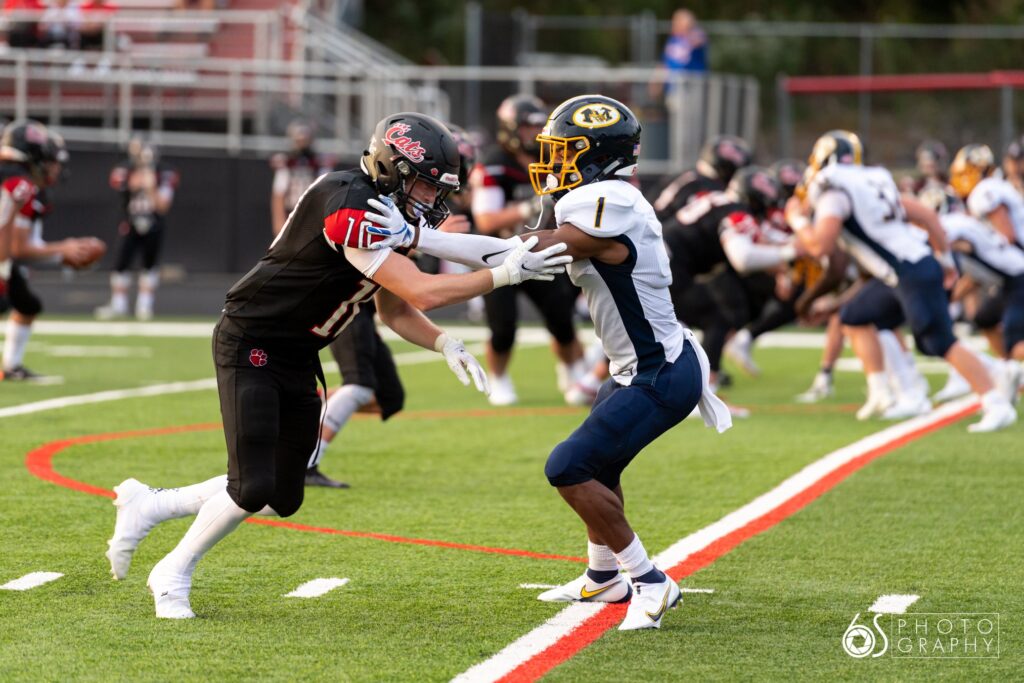 Franklin was gifted with excellent field position when Monroe's Ishmael Moss muffed the kickoff return. Woods recovered the fumble at the Hornets' 5-yard line.
A 21-yard Isaiah Bales field goal extended Franklin's lead to 10-0 with 6:33 still to go in the first quarter.
It was all Franklin in the first half, but to think that Monroe did not have a chance in this game based on the final stat line is a bit deceiving.
Monroe started its first drive after the score at its own 25-yard line. The Hornets' triple-option offense was working and slowly grinding down the Wildcats' defense.
Monroe ran with a heavy-dose of Elijah Jackson for six-straight plays. The final run by Jackson was a 19-yard scamper to Franklin's 24-yard line with a little over a minute left to go in the first quarter. As soon as the Hornets looked as if they would cut into the lead, the ball was snapped too high, going right over the outstretched hands of quarterback Collin Deaton and sailing backward 15 yards. Deaton and his teammates tried to salvage the drive by jumping onto the loose ball but not before Franklin got to it first.
"We have to do better, we have to score the ball," Monroe coach Bob Mullins said. "We've got to maintain drives."
Franklin would not take advantage of the opportunity, going three and out, but it would be the closest Monroe would get in making it a meaningful scoring drive. The Hornets' last drive of the half stalled, resulting in a punt with 7:08 left in the second quarter.
The Wildcats ran the ball the whole way, chewing up clock and getting down to the Monroe 5-yard line with a minute left in the first half. Then halfback Pierce Bauerle ran to the right of the Monroe defense for a score that gave Franklin its 17-0 lead with 50 seconds left.
Despite there being a winner and loser for this season opener, this night meant a lot to both teams and coaching staffs, as they weren't even sure if they would have a season. Both teams won tonight.
"To be able to play this game, a game where there's a lot of contact and you know guys are playing hard, it's really special," Franklin coach Brad Childers said. "We're really lucky. I think our kids did a nice job on the sideline of practicing social distancing."
Monroe (0-1) hosts Valley View next Friday, while Franklin (1-0) travels to Bellbrook.