FAIRFIELD — The Fairfield High football team used a 21-point third quarter — which overcame Hamilton's 13-9 halftime lead — to pull away for a 37-13 victory in a Division I quarterfinal at Fairfield Alumni Stadium on Friday.
Fairfield relied on the legs of third-string running back Jaydan Mayes, who filled in for injured starter JuTahn McClain and also backup Phil Thomas after Thomas left the game late in the first quarter.
"Tonight was all about next man up. You saw it at running back," Fairfield coach Jason Krause said. "We had to dig deep into our roster, and you saw Mayes at corner with a big pick-6. He had a huge second half."
Mayes rushed nine times for 88 yards and a touchdown, which included a 67-yard jaunt on the first play from scrimmage to start the second half. Mayes took the ball off the left tackle untouched to give Fairfield a 16-13 lead that it wouldn't relinquish.
"We went in at halftime and said that we have to figure out a way to generate some offense and get some points," Krause said. "We changed it up a little bit, came out in some empty backfield. Jaydan Mayes hit a long run, and we just kind of took off from there."
Fairfield forced Big Blue into a three and out, and during the ensuing punt, the snap was low and mishandled. That gave the Indians premium field position at the Hamilton 32.
"You can't have two blocked punts and then a missed field goal. We probably should have gone for it in hindsight," Hamilton coach Nate Mahon said. "It's not a field goal game, it's a touchdown game. We've got two really good kickers, and they just weren't kicking the ball well tonight. I saw that and probably should have went with my gut, and my gut was telling me to score touchdowns."
Facing a fourth-and-4 from the Hamilton 2, the Indians elected to go for it and scored on a Sawiaha Ellis pass that Deshaun Simpkins high-pointed to give the Indians a 23-13 lead.
A week after having three critical drops down the stretch against Colerain, none more critical than the fourth down drop in the endzone to end the game, Simpkins responded with three catches for 67 yards and two touchdowns.
"It feels amazing," Simpkins said. "Just coming back and being able to do this again for the last time at Fairfield, it feels amazing.
"I just told myself to jump higher," Simpkins added. "Just jump because that's what I'm known for is jumping. Jump. Out-jump him and catch the ball.
"Now we get another chance at Colerain to get revenge," Simpkins continued.
"I'm proud of him," Krause chimed in about Simpkins. "That first touchdown that he caught in the endzone, he just went up over that kid's head and caught the ball. He's a state qualifier in the high and long jump, and he's obviously got the athletic ability to do that. He showed it on that play. I'm just so proud of him. You know a lot of kids could have hung their head and thought about those pass plays, but he put that stuff behind him and moved on."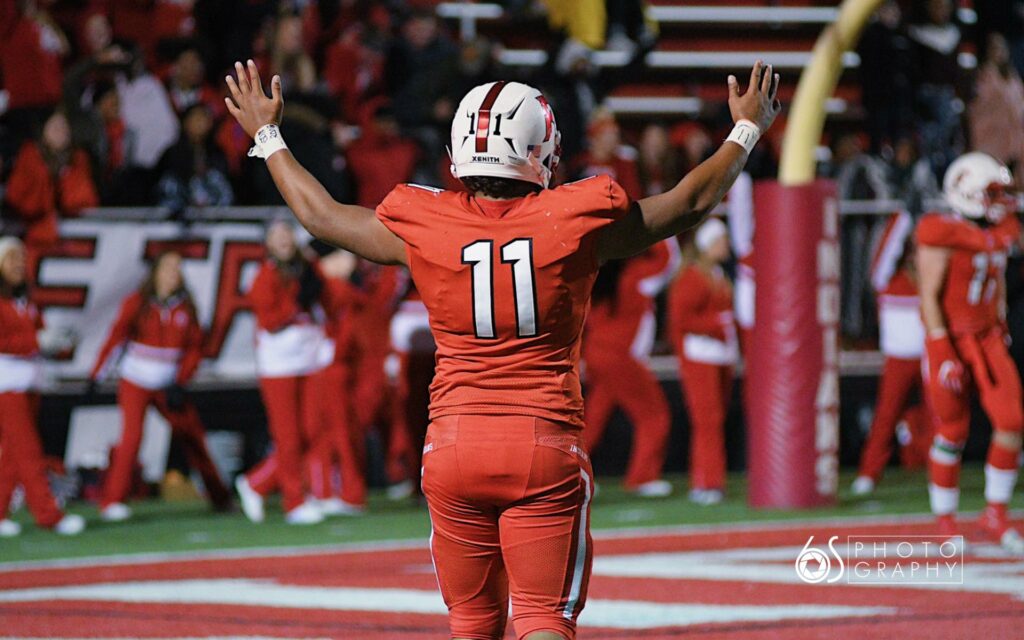 Hamilton jumped out to an early 6-0 lead on a 9-play, 80-yard opening drive that culminated in a Keyshawn Stephens 1-yard touchdown plunge.
Fairfield answered to take a 7-6 lead, and after forcing a Hamilton punt attempt, Brandon Smith rushed through the Big Blue O-line and blocked the punt out of the back of the endzone for a safety. That extended the Indians' lead to 9-6.
Hamilton regained traction in the second quarter on a 33-yard Quincy Simms-Marshall touchdown pass to Kevon Burnett to give the Big Blue the 13-9 halftime advantage.
"If you're going to get in front and play with a lot of emotions, then you gotta get out in front and try to bury them early," Mahon said. "We didn't do that. That was the plan. It would have been nice to be up 20-9 as opposed to 13-9."
Stephens led Big Blue with 92 yards on 14 carries and one touchdown.
Sawiaha Ellis led the Indians with 109 passing yards and three touchdowns.
Hamilton ends its season at 5-6. Fairfield moves on for a rematch against Week 10 opponent Colerain at a site yet to be determined. The Cardinals gave the Indians their only loss in a 16-10 regular season finale.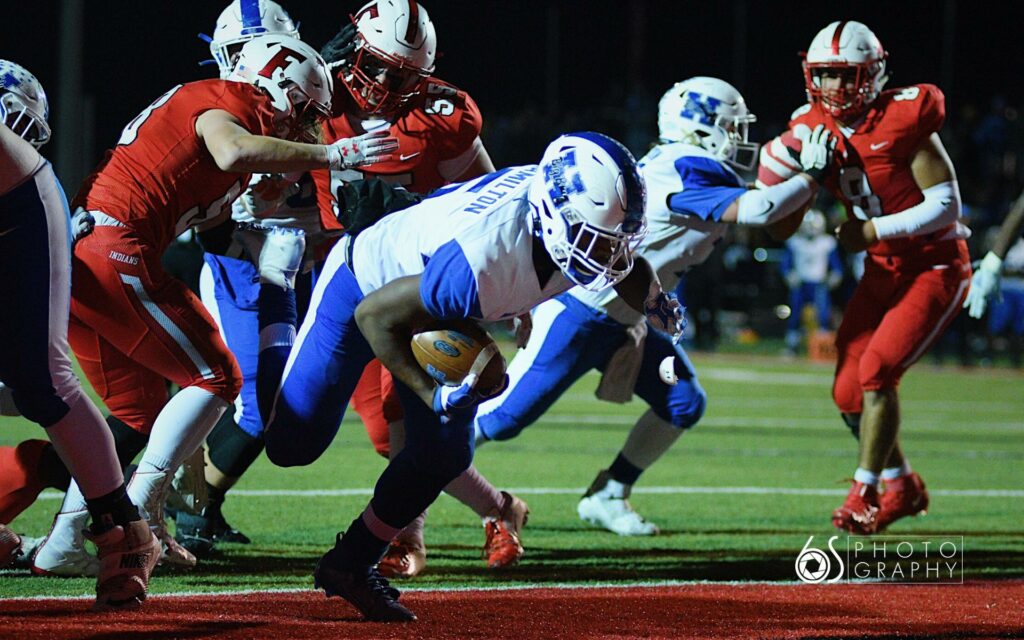 Hamilton 6 7 0 0 — 13
Fairfield 9 0 21 7 — 37
First Quarter
HAM TD 08:08 Keyshawn Stephens 1 YD RUN (Erik Rios KICK FAILED)
FAI TD 03:54 Marquis Jones 39 YD PASS FROM Sawiaha Ellis (Nick Maddy KICK)
HAM SAF 02:11 TEAM SAFETY
Second Quarter
HAM TD 07:50 Kevon Burnett 33 YD PASS FROM Quincy Simms-Marshall (Erik Rios KICK)
Third Quarter
FAI TD 11:43 Jaydan Mayes 67 YD RUN (Nick Maddy KICK)
FAI TD 07:40 Dashaun Simpkins 26 YD PASS FROM Sawiaha Ellis (Nick Maddy KICK)
FAI TD 02:39 Jaydan Mayes 52 YD INT RETURN (Nick Maddy KICK)
Fourth Quarter
FAI TD 04:45 Dashaun Simpkins 37 YD PASS FROM Sawiaha Ellis (Nick Maddy KICK)