OXFORD — After losing to Anderson in their opener on Tuesday, Talawanda High boys basketball coach Jake Turner and his Brave realized that the atmosphere surrounding games on the hardwood this season would be unlike any they had experienced before.
Gymnasiums packed with fans, pep bands and rowdy student sections that generated energy for the players are — for now — just a distant memory.
With limitations to the number of fans that can attend games due to the pandemic, players and coaches will have to be the ones generating the energy and excitement firsthand to carry them to victory.
And that's exactly what the Brave did as they trounced the Clark Montessori Cougars 70-33 Saturday on Senior Night.
"We talk about it. We're not going to have a lot of fans at games. Some games, probably none," Turner said. "But we have to bring our own energy, and we did that tonight. And that's one thing, our seniors stepped up on Senior night. I want to thank them for everything they've done for this program."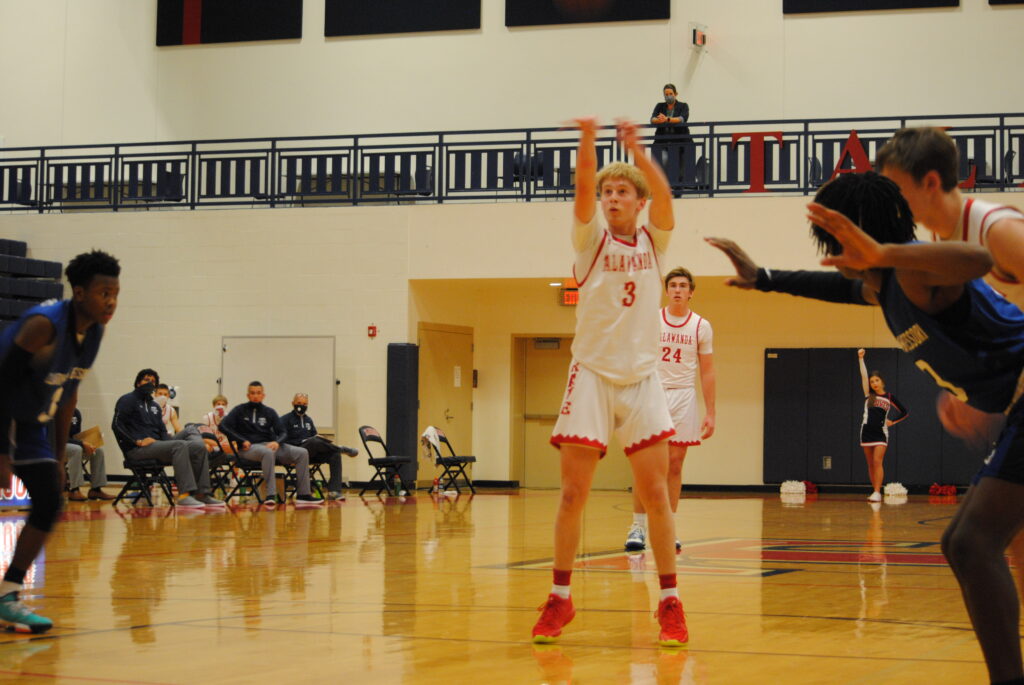 In addition to playing with energy, Talawanda (1-1) simply outperformed Clark Montessori (0-2) in both turnovers and rebounds. The Brave turned the ball over just 15 times compared to the Cougars' 25, and they grabbed a total of 40 rebounds compared to the Cougars' 28.
Those were two key factors in the game according to Clark Montessori coach Sam Guilford.
"In the end it really comes down to you can't turn the ball over like we did and you can't give up those second shots," Guilford said.
Talawanda was led by senior Jonathan Richter, who finished with a game-high 24 points and 17 rebounds.
Richter said that although he's proud of his performance, he wouldn't have been able to do it without his teammates creating opportunities for him.
"I think a lot of what I did can be attributed to the guys on the court," Richter said. "If we don't have shooters around the perimeter and we don't have guys driving and dishing it to me, then I don't have half those points."
Another senior who performed well for the Brave was guard Craig James, who had 17 points and 4 rebounds.
Turner knows his team will need to continue to execute its game plan each time out in order to be successful throughout the rest of the season. But playing with the same energy will also be just as important.
Whether the players generate it on their own, or the coaches give them a boost it will certainly be a key to their success, Turner said.
"I put it on them. I told them they have got to come up with everything to bring energy," Turner said. "We know as a coaching staff we're going to bring energy and the guys brought it tonight. So, whatever they did, I hope they continue to do that on Tuesday as well."
Marcus Murray paced the Cougars with 14 points.
The Brave travel to Union County on Tuesday, Dec. 8, while Clark Montessori visits Summit Country Day on Friday, Dec. 11.
Clark Montessori 7 10 10 6—33
Talawanda 16 15 24 15—70
Clark Montessori (0-2) — Murray 5 2 14, Gibson 2 2 6, Mason 1 0 2, Curry 2 2 6, Parker 1 0 3, Cook 0 1 1, Oliver 0 1 1. Totals 11 8 33.
Talawanda (1-1) — Hensley 1 0 2, C. James 4 8 17, Kennel 1 0 2, Richter 9 6 24, Reynolds 1 1 3, Williams 2 1 5, Puckett 1 0 2, B. James 2 0 6, Schlichter 2 2 6, Olineck 0 3 3. Totals 23 21 70.
3-point goals — C: Murray 2, Parker 1; T: B. James 2, C. James 1