SHARONVILLE — The No. 2 seeded Ross Rams defeated the No. 9 Hughes Big Red 57-42 Thursday night at Princeton High School and will advance to the next round of the Division II boys tournament.
Ross (21-3) will face Indian Hill on Saturday, Feb 27 back at Princeton.
Rams coach David Lane said his team did a great job of relying on the scouting report for Hughes and was proud of the way they played defense — citing it as a key to their victory.
"I think we did a really good job locking into the scouting report," Lane said. "Our defense was the difference in the ballgame." 
One of the top performers on the defensive end for the Rams was Joe Schottelkotte. Lane said Schottelkotte, who finished with 7 points, gave a great effort when guarding Hughes leading scorer CamRon McKenzie (25 points).
"I will take him guarding anybody," Lane said. "He does a great job and he takes so much pride in his defense. He did a fantastic job on McKenzie who finished with 25, which is a win. I mean that guy can score. He can flat out play."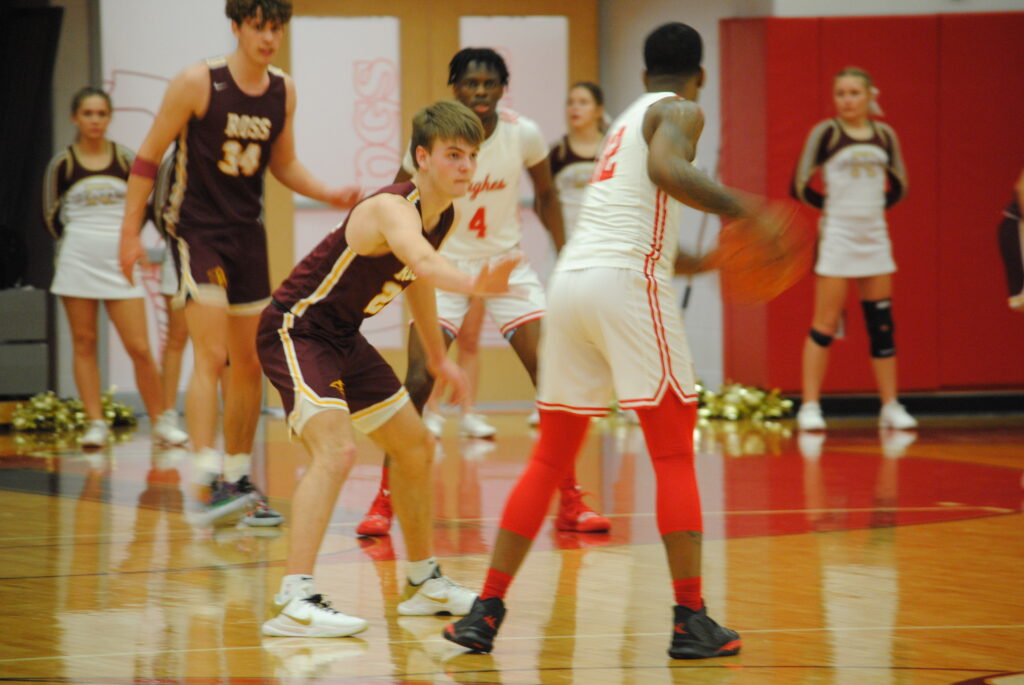 As for the Rams, their leading scorers were CJ Boze and Sam Nunn — who each finished with 15 points.
Nunn expressed how impressed he was with Hughes and their top players.
"They're a great team, and they gave us a great look," Nunn said. "CamRon McKenzie and JaeSean Martin are great players and honestly I think they could've gone really far in the tournament."
Boze added that they knew Hughes would come out and give their best effort and that they just needed to stick to their gameplan. 
"When you come into the game, you always think the other team is going to give it their best, obviously," Boze said. "That's a very, very solid team. We knew they were going to come out there and get after it. We just stuck to our game plan and what coach has been telling us all week." 
The Rams won the tipoff, jumped out to an early lead with a couple of quick baskets and stayed ahead for the remainder of the first half. Ross took a 31-19 lead into halftime. 
In the second half it was more of the same. With stout defense and solid performances from their top scorers, the Rams built on their lead from the first half going up by 17 in the third quarter — the largest lead of the game. 
While Hughes (10-9) attempted to mount a comeback, the Big Red would ultimately fall short.
Now, Lane said it's time to focus on the next task at hand — Indian Hill.
"They've only lost a couple games, I know they didn't really get started until January," Lane said of Indian Hill. "But they got some really good guards and a big guy down low. So, we'll enjoy the win for about 15-20 minutes and then go look at some scouting opportunities for Indian Hill."
Nunn said he was able to watch some of Indian Hills' win over Monroe prior to the start of their game. Nunn said they'll be ready for a tough one.
"They look like a really good team," Nunn said. "They're very well-coached, they play the ball well and they play slow. They play within themselves, and I think it'll be a great game here on Saturday." 
Ross 21 10 15 11 — 57
Hughes 9 10 16 7 — 42
Ross (21-3) — Schottelkotte 3-5 0-0 7, Stepaniak 4-10 0-0 9, Boze 7-12 1-2 15, Nunn 6-9 3-5 15, Booker 1-5 0-0 3, Jackson 1-1 0-0 3, Reid 2-3 0-0 5
Hughes (10-9) — Martin 4-11 2-2 11, Good 1-3 0-0 2, McKenzie 9-21 6-7 25, Mills 2-4 0-0 4.
3-Point Goals — Ross: Shottlekotte 1, Stepaniak 1, Booker 1, Jackson 1, Reid 1; Hughes: Martin 1, McKenzie 1