SHARONVILLE — Fenwick's defense helped fend off Ross 51-39 on Wednesday in a Division II sectional semifinal at Princeton.
The No. 10 seed Falcons (14-10) advance to play the No. 2 seed Hughes Big Red (19-5) in a sectional final on Friday at 6 p.m. at Princeton.
"We knew coming in that Ross was going to be a tough out. They played us well," said Fenwick coach Kelven Moss, whose team was in a tight battle against Ross at the start.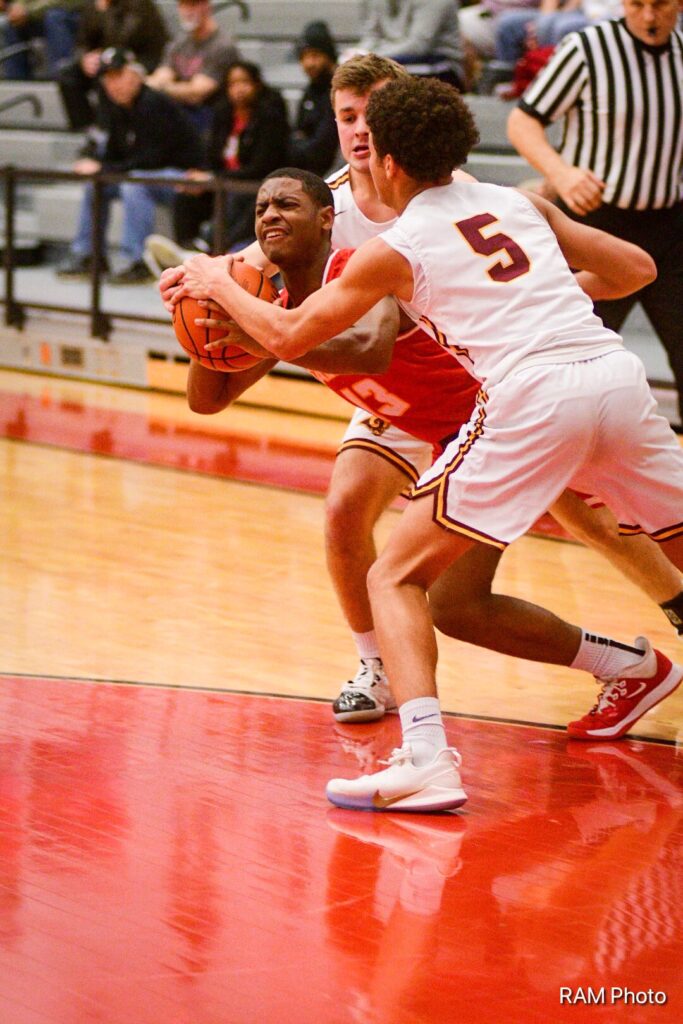 The ball virtually went through Braun, at the beginning first quarter, forcing No. 8 seed Ross to throw some extra bodies his way. Though Braun only scored 10 points, the big man was very active on the glass by leading his team with 12 rebounds and giving the Falcons second-chance opportunities. He also had five blocks.
"I thought our game plan was really good," Ross coach David Lane said. "I thought we limited Braun offensively, but he was a game-changer defensively in the second half."
After one-quarter of play, the two teams were knotted up at 10, going toe-toe. But then the beginning of the second quarter was a different story.
The Falcons made the necessary adjustments on defense while going on a 7-0 run the first three minutes of the period to take a 17-10 lead with 6:10 left before the half. Part of the run was Braun — a 6-foot-9 center — contesting shots.
"Our game-plan was always to have me in the middle and for them to run off the arc and just have them come to me," Braun said. "I can take care of the shots and block them."
Lane took a time out to calm his team down, and Ross then went on a run of its own.
Ross guard CJ Boze scored twice and Blake Lakes hit a 3-pointer off the glass to tie it at 17 with 2:36 showing on the first-half clock. The Rams briefly took the lead after a couple of free throws by Joe Schottelkotte.
Fenwick took the lead back with a Terry Ferrell 3 from the corner with 20 seconds left for a 22-19 halftime lead.
The Falcons outplayed the Rams most of the second half, going up by 7 at 32-25 with a 1:36 left in the third frame.
Ross (17-7), which came into the contest having won 8 out of its last 9 contests, had one more sign of hope. Rams senior guard Cole Gronas made a huge 3 to get within one at 32-31 at the 7:23 mark of the fourth.
Unfortunately for the Rams, that would be their final opportunity as Fenwick's defense was too much to overcome.
Fenwick's Will Richards had his best game of the year with a game-high 15 points. Dan Luers and Ferrell each had 10. The Falcons have now won 8 out of their last 9.
Stepaniak led Ross with 13 points. Ross graduates seniors Gronas, Lakes, Jack Valentine and Jeremy Dean.
Fenwick 10 12 10 19—51
Ross 10 9 9 11—39
Fenwick (14-10) — Richards 5 4 15, Earls 1 0 2, Braun 5 2 12, Luers 3 3 10, Rucker 1 0 2, Ferrell 3 3 10. Totals 18 12 51.
Ross (17-7) — Shcottelkotte 0 4 4, Stepaniak 3 5 13, Gronas 3 0 9, Boze 3 1 7, Nunn 1 0 3, Lakes 1 0 3. Totals 11 10 39.
Three-point Goals — F (3): Richards 1, Luers 1, Ferrell 1. R (7): Gronas 3, Stepaniak 2, Nunn 1, Lakes 1.