FAIRFIELD — Avery Buckle was simply trying to find a teammate. Instead, she found something else.
The senior sent a looping cross from the right side of the field that snuck its way into the left corner of the net, lifting the Badin High girls soccer team to a thrilling 2-1 double-overtime victory over Summit Country Day in a Division II district semifinal at Fairfield's Christy Rose Dennis Memorial Stadium on Monday.
"This feels amazing," Buckle said. "We talked at halftime about how we have to play the crosses in and that I would have to find my teammates."
But there was no need for the help.
Buckle sent her kick into the deep part of the box with 11:26 showing on the clock in the second overtime period. The ball caught just enough air — and a little bit of wind — before swooshing off the left side of the goal.
"We just knew we had to win," Buckle said. "Our focus is to keep the pressure on. We just knew we had to win this one so we can get to Thursday."
The Rams, indeed, play Thursday, Oct. 24 against unbeaten Monroe (18-0) in a district championship at 7 p.m. at Ross.
Badin moved its record to 12-4-2 and is 5-0-2 in its last seven games.
"This was a team win — a team victory," said Rams coach Joe Martin, who is in his first season at the helm. "Everybody came in, they took their shift and they had their breaks. I had different people in different positions because we've got a couple of injuries. And that worked out really well."
Buckle is labeled as a defender on the Badin roster. In the second overtime period Monday night, she was a forward.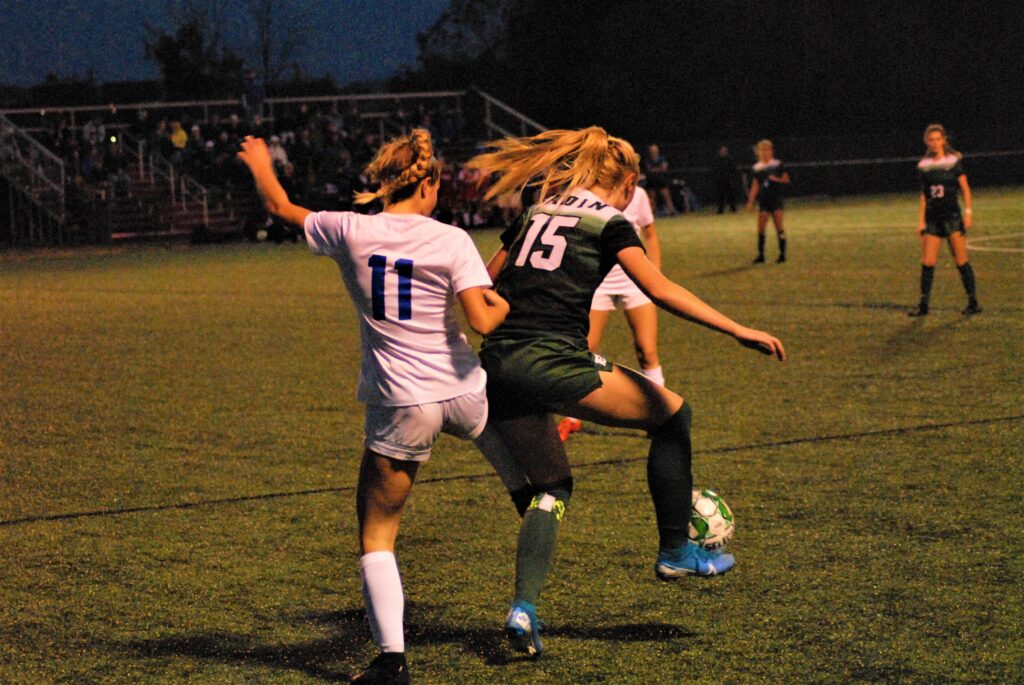 "We knew Summit was going to be a good team," Martin said. "Mike (Fee) is a great coach. Their players do very good and hats off to them. They stuck with it as well."
Junior Paige Long gave Badin a 1-0 lead with 25 minutes left to play in regular time.
In a contest that saw most of the action in the middle of the field, Summit Country Day had its fair share of attacks.
Badin keeper Mickayla Kowalski attempted to punch a long Summit kick away from the box, but the ball's path went straight to the opposition. Kowalski was out of place and couldn't get back inside to defend what turned out to be a game-tying goal by Peyton Bulla with 2:05 remaining.
"With all sports, at the high school, college and even the pro level, things happen," Martin said. "It's how you deal with something and how you come back from it. And that's what happened today.
"But for that to happen to Mick, that's very uncharacteristic," Martin added. "Mick felt so, so bad. She looked at me and said, 'I don't know. I blanked.' That will be the last time that will happen the rest of the postseason from her."
The Rams took some momentum into the second overtime, which was capped off by Buckle's golden goal.
"I felt good about the second overtime because I knew we had the ability to get in and keep the pressure on," Martin said. "The girls did that.
"It was a great goal for Avery. I'm happy for her," Martin added. "We keep on telling her to go ahead and get the ball and play to the back post, and she does that. You never know what happens with the wind and other variables. Things go your way, and at this time of the season, we will take that."
Follow this reporter on Twitter @BCHSSReport.