BATAVIA — Jim Leon liked what he saw out of his Lakota West High School boys basketball team's defense on Tuesday night.
It was the offense that sputtered — which seemed to be a reoccurring theme throughout the season for the Firebirds. 
Sycamore senior Austin Southerland scored a game-high 24 points, and the fourth-seeded Aviators beat No. 18 Lakota West 55-47 in a Division I sectional contest at West Clermont.
"We've had trouble scoring all year," Leon said, noting that the Firebirds' were coming off one of their best shooting performances of the season (57%) in Friday's win over Walnut Hills. "We had a couple games like that where we shot it well.
"I thought our defense played really good. We just got tired."
Lakota West senior and leading scorer Nathan Dudukovich had 17 points, while fellow senior Jason Lavender added 12.
The Firebirds finished 8-16, their first losing season since 2018-19.
"Tim (Austing) does a great job. They run a very disciplined and patterned offense, and they do a great job with it," Leon said of Sycamore's coach.
Lakota West led 12-4 after one quarter. Sycamore then went on a 7-0 run, and Southerland knocked down a 3-pointer to put the Aviators on top 13-12 midway through the second period.
Dudukovich tied it up on a pair of free throws to make it 17-17 with 2:14 left in the second quarter, and another Southerland trey put Sycamore back on top.
The Aviators would never trail the rest of the way.
Southerland scored nine points during an 11-0 run in the third quarter that gave Sycamore its largest lead at 34-23.
Lakota West trimmed the margin down to 47-44 with under a minute to play, but the Aviators sunk eight straight free throws to hold on. Sycamore (17-7) went 18 for 20 from the line.
"We had some high expectations, but we didn't anticipate struggling on offense like we did pretty much all year," Leon said. "Everybody knew about Duke. He gets us 20 something a game. Everybody else pitched in at various times, but we couldn't get that consistency throughout the year."
The Firebirds graduate five seniors — Jaylen Jenkins, Christopher Barber, Christian Simmons, Dudukovich and Lavender.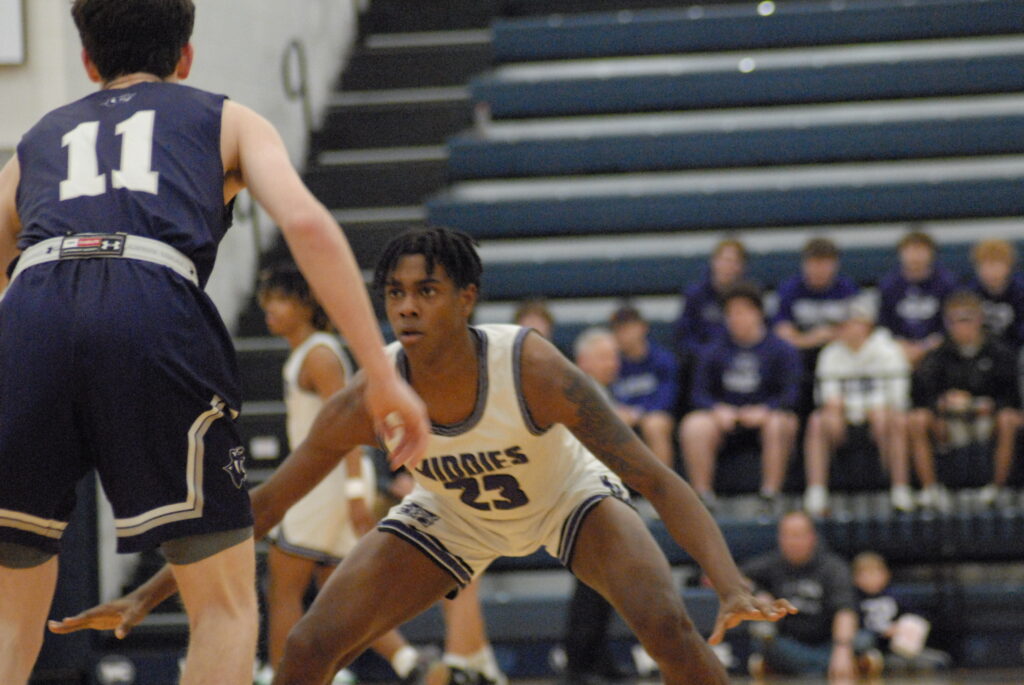 Elder 54, Middletown 36
BATAVIA — Jeremiah Landers and Izaiah Day each scored 11 points to pace No. 13 Middletown in a season-ending 54-36 sectional loss to No. 2 Elder on Tuesday night at West Clermont.
Elder led 14-9 after one quarter and 26-19 at the break. The Middies pulled it to within 26-23 with 5:06 left in the third quarter before the Panthers outscored Middletown 28-13 the rest of the way to secure the win.
"The thing that haunted us all year was valuing possessions and making shots. That was crucial," Middies coach Kelven Moss said. "I think we had some stops that really could have tilted the game, but then we turned the ball over or took a quick shot."
Elder went 20 of 33 from the free throw line, while Middletown made 3 of 6 at the charity stripe.
"They're extremely well coached. You have to value every possession against them," Moss said of Elder, which has won four in a row to move to 19-4. "We got in early foul trouble, and with that type of team, you can't send them to the free throw line. Obviously, we have to play a little cleaner. If we play cleaner and don't send them to the foul line, I think it could have been a little more of a competitive ending to the game."
Middletown finished the season at 12-11 and graduate seniors Darius Cunningham, Charles Hollandsworth, Trevon Bryant, Kellen Davis, Keatrick Thomas and Day.
The Middies had their first winning season since 2013-14.
"I'll take that," Moss said. "We lost seven games by less than five points this year. It's been that story of valuing possessions, and a couple of those games will go our way."
Todd Tieman scored 12 points, Sam Whitmer had 11 and Cam Williams added 10 to lead the Panthers, who move on to face Sycamore on Friday at 8 p.m. at West Clermont.