Boys Basketball
Bill Edwards Jr. named next Middletown boys basketball coach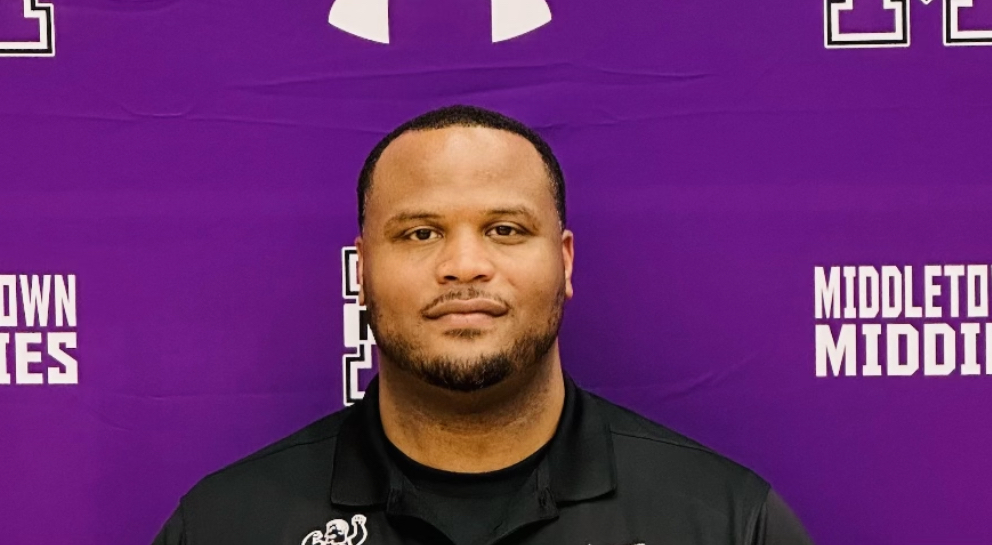 MIDDLETOWN — Bill Edwards Jr. had a resume that spoke for itself. Having a long line of family basketball history did too.
And it's now given him the opportunity he's dreamt about within his hometown community.
Edwards was introduced as the Middletown High School boys basketball coach Friday afternoon at Wade E. Miller Arena, where the 2009 graduate spoke to the Middies about the changing of the guard and expectations moving forward within the program.
"It's definitely surreal," Edwards said. "It feels great being at my school, my alma mater — a place where I put my blood, sweat and tears in as a player and a place I got to represent.
"I'm excited to continue the tradition here at Middletown. We have one of the richest traditions in Ohio. The opportunity to lead a program like Middletown, in a community I grew up in is special."
Edwards takes over for Kelven Moss, a 2001 graduate who led Middletown the last two seasons before recently accepting the head coach position at Lakota West. Edwards was an assistant to Moss during those two years in which the Middies compiled a 23-25 record.
Middletown finished 12-11 this most recent season — the school's first winning season since 2013-2014 when Edwards' brother Vince, who was drafted in the NBA in 2018, led the Middies to a 19-7 mark his senior year.
"This is going to be a great opportunity for me and my family," Edwards said. "I thought it was just fate."
Middletown athletic director JD Foust said the writing was on the wall in terms of filling the head coaching spot with Edwards.
The Middletown coach position garnered plenty of interest from former head coaches, assistants and other reputable names, Foust said. But he knew bringing another Middie back was going to be crucial for the program.
"We're beyond excited to call Bill our next Middies boys basketball coach and for him to lead our program," Foust said. "With his background and experience, not just as a player but also a coach, he has passion for the game and for the kids.
"Everything that he talks about regarding his vision and his plan, the Middletown administration were all on board," Foust added. "We like what we've seen with him just being a varsity assistant. He's going to continue to take it in the right direction."
"I think with the time I spent coaching with Moss, we got the program going in a good direction," chimed in Edwards, who is expected to land a full-time position within the high school. "I want to be able to continue to build off that."
'Demanding excellence'
Foust said having already seen Edwards in action from a coaching standpoint was an added plus during the hiring process.
The athletic director knew what Edwards historically brought to the table as a player. Foust said Edwards' coaching leadership certainly mirrored his playing abilities — work, dedication, and success.
"He simply demands excellence — on and off the court," Foust said of Edwards, who completed his high school career ranked in the top 10 on the Middies' all-time scoring list with 1,129 points.
"He was a winner then," Foust said. "He's still a winner now."
Edwards was a first-team, all-Ohio player and named Greater Miami Conference Player of the Year his junior and senior seasons — averaging 17.4 points and nine rebounds a game his final year as a Middie.
Edwards went on to play a season for the Penn State Nittany Lions, but he left the Big Ten school to transfer to Miami University in Oxford — where he received a degree in Kinesiology in 2014.
However, it was well before then, Edwards said, that allowed him to build his leadership reputation.
Edwards was a staple in the AAU scene as a coach starting at the young age of 15 — all while playing travel ball himself — which gave him the tools to obtain a coaching mindset. 
"As a player growing up, you're just playing to represent your community and play with lifelong friends," Edwards said. "It meant a lot to us to wear purple and white. Everyone knows the Middies, and it was important to me to be a positive role model within the community.
"But when I started coaching, it became more than that," Edwards added. "I was able to coach my brother and other young men, allowing the opportunity to change lives and provide exposure through the AAU circuit.
"Once I stopped playing, Coach Moss gave me an opportunity to join his staff. I'm grateful for the opportunity he gave me to coach at my alma mater."
That was the steppingstone he needed to get into the school-ball scene.
'Great expectations'
As the Middies' winning culture was beginning to resurrect the last couple of years, Edwards said the program's future will rely on attainable goals and heightened expectations.
And all of that starts now, according to Edwards.
"The community will get to see a team who is mentally and physically tough," Edwards said. "Those things will be pushed this offseason, starting with being in the best shape possible We want teams to play at our pace for 32 minutes."
Edwards said to expect the Middies to showcase a similar style of play that he used run during his days on the court.
"Fast and disciplined," Edwards said. "My biggest thing with the guys is that they're playing the game the right way. Controlling things that we can control as a team.
"We will play to our strengths and aim to be the tougher team on a nightly basis," Edwards added. "The community can expect an exciting team, but also expect discipline.
"We want our guys to be successful on and off the floor," Edwards continued. "For us to do that, I'm going to want them to strive for excellence every day — in the classroom, in the community and on the court.
"Me and my staff will demand excellence until it becomes a habit. When it becomes a habit, our mindset will change. When our mindsets change, then we will be successful on and off the floor."
'A family affair'
The basketball pedigree ran high in the household when Edwards was a youngster.
He was surrounded by some of the biggest names in hoops, and it started with his father Bill Edwards Sr.
Edwards Sr., who was a 12-year professional hoopster in Europe, helped introduce Edwards Jr. to top-tier players and coaches when he was growing up.
That included guys like Gregg Popovich, Tony Parker, Andre Kirelinko, and many others.
Edwards Sr. was a member of the bronze medal-winning senior men's Team USA at the 1998 FIBA World Championship — which gave Edwards Jr. the chance to meet "Coach K" Mike Krzyzewski and Rudy Tomjanovich.
"Those moments growing up were surreal," Edwards Jr. said. "I've always had a basketball mindset and been a player-coach on the floor. I was a kid that had 1,000 playbooks. I knew once my playing days were over, I wanted to coach."
"It just always made sense."
That experience, along with watching his father and younger brothers excell, standout to be a some of Edwards' greatest memories pertaining to the basketball court.
"We've had so many special moments," he said. "We've been blessed as a family.
"Watching my brother Vince thrive at Purdue and putting his mark on that university was great. Then to be able to hear his name called on draft night was a full circle moment. All of his hard work and the time we put in together had paid off."
Edwards said the basketball family affair will continue next season at Middletown. He looks forward to bringing his father on staff as an assistant coach.
"It was exciting to be back and it's even more exciting to be at the helm to lead my community and lead the next generation of Middies on and off the court."