The cat isn't in the bag any longer. The Badin High School boys volleyball team isn't an unsung secret.
According to third-year coach Anitra Brockman, the last couple of days inside the gym have been a prime indicator that the Rams have staked their claim as one of the premier Division II programs in the state.
"This has been the best week of practice we've had all season. And it honestly couldn't have come at a better time," Brockman said Friday night. "They are on a different level right now. It's pretty scary. It would be scary to be an opponent on the other side of the court because of just how well-connected they are right now.
"The communication and the admiration they have for each other is amazing," Brockman added. "They are all there to do their part for the betterment of the team."
The state's No. 2 ranked Rams are set to face rival LaSalle today at Princeton at 3:30 p.m. for a chance to advance to the Division II state semifinals.
"What I love about these boys is that from Day 1 they have the buy-in. There is nothing you can tell these boys that will break the bond that they have and the culture that has been established in our program," Brockman said. "I definitely feel they're pumped and ready to keep this thing going. It's their time.
"As a coach, I'm nervous," Brockman added. "I'm not nervous about their performance. I'm nervous knowing that this is it — this is in fact our time. I just can't celebrate until that last point. And that's what our guys are getting ready to battle for is that last point."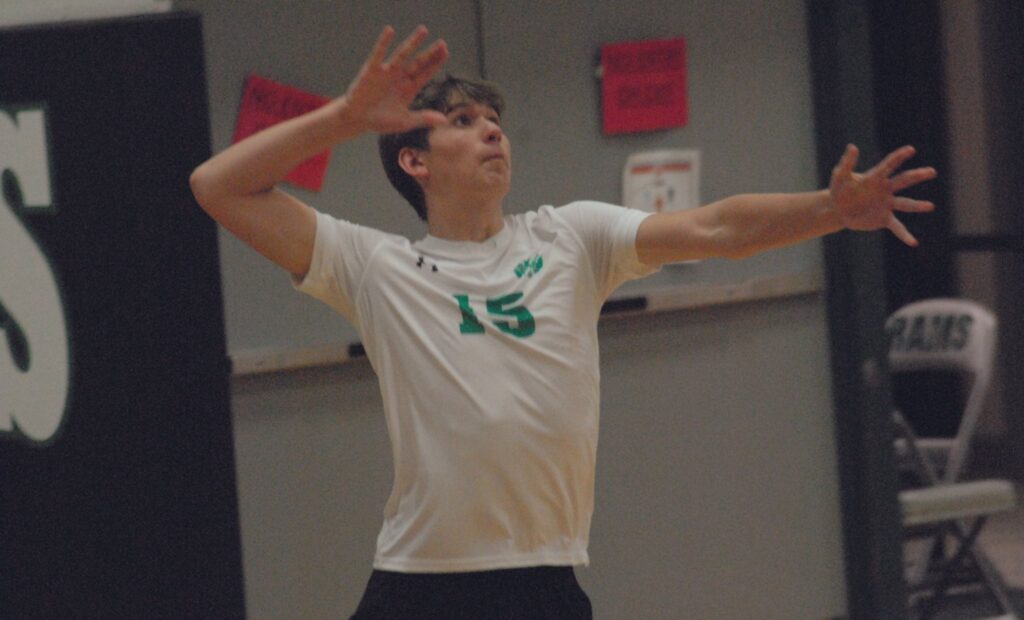 SENIORS LEADING THE WAY
The contributions from a team that is currently standing at 20-5 are undeniable, Brockman said. There's a reason why Badin has won nine out of its last 10 contests.
While captains Sean Pendergest and Andrew Larkin have that title, all seven seniors have played dominant factors in getting the Rams to this point.
"They've all been phenomenal role models for the team," Brockman said of the seniors. "I hope they know what kind of legacy they're leaving here. From the very beginning of the season up until this point, they've all been leaders. They are self-directing and they're just a great group to be with."
Rounding out the seniors are David Schweinefuss, Michael Schweinefuss, Matt Rings, Andrew Hegemann and AJ Goldberg.
"I call them our horses," Brockman said. "You have to know who to bet on in the game. And what's nice is that we've got several horses this year. Any game you don't know which horse may be off. When it's crunch time, our guys know who to set, and when to set them up."
Larkin leads the team in assists with 436, while Michael Schweinefuss owns a team-best 529 total attacks and 204 kills. Hegemann has a team-leading 331 digs.
"Larkin is just a natural leader. And it shouldn't be any surprise because he was like that in basketball," Brockman said. "He can make everyone around him better. That's just what he does. I'll give him that look. I don't even have to say a word. He immediately knows. When a team goes on a three-point run against us, I say, 'Three points is the max for me. Stop the bleeding.'
"Larkin knows what to do. He gets them in the huddle, and he helps us find a way to dump the ball over the net and stop the situation," Brockman added. "What I love about him is that he's a captain, but if he weren't a captain on the team, he would still speak up without me saying that it's time to get something going. He knows what to run. He knows who to set. He comes through for us."
YOUTHFUL TALENT
Juniors Eli Halverson and Sam Vornhagen have provided a spark for the surging Rams this season. Halverson has 447 total attacks and 167 kills. Vornhagen has 378 passes, which is third best on the team.
Jordan Brockman, Antri Brockman's freshman son, has been a force as well. Jordan Brockman has 290 assists.
Rounding out the Rams' roster is junior Luke Dwire and sophomore JJ Even.
ZOOMING WITH COMMUNICATION
As for any high school program, success is often met with some bumps in the road. But Brockman said she wanted to ensure a smooth ride at the start of the season.
"Once we didn't have season last year, we were devastated," Brockman said. "Myself and the coaching staff made it a goal to stay in touch with the boys throughout the school year. Because we didn't want a whole year to go by and not have that communication, we set up Zoom meetings — one on one with each of the boys.
"We made sure it was scheduled around whatever sport they were in regarding their practices or games," Brockman added. "We just took time to meet with each other and find out what their goals were and what they wanted to work on individually this season, as well as team goals. I compiled a list of all of those goals, and closer to tryouts, we made a list of team goals and got onto a Zoom call as a team.
"I decided that I didn't want these boys to be stressed out about tryouts," Brockman continued. "So I just told them and met with their families and made the decision that everyone was going to make varsity. We didn't have a season last year and it wasn't going to be fair to them.
"Once the season kicked off, the boys kept a certain vibe. You could just tell that about them. I think they just looked around at each other after a few scrimmages and thought, 'Man, we're pretty good.'"
A FRIENDLY BOND
"They're great friends. They genuinely care for one another," Brockman said. "That's what I told them all season. As a coach, you come into a program with no idea about them or whether they know each other well. A lot of these boys have known each other since they were in preschool — some in grade school. Some of them didn't know each other until the high school level, but you wouldn't have had the slightest idea. They're just genuinely a tight-knit group. There's nothing anyone can say to break the bond that they have on and off the court.
"What I love the most is that they know if I'm frustrated. They'll ask to huddle up. They'll ask if they can have a minute and huddle up in practice," Brockman added. "I tell them that I'm hard on these guys because I know what they're capable of doing. I say if they can't practice how you're going to play in the games then why are we doing this. They ask, 'Coach, can we get a minute?' I give them five minutes. They'll get in their little huddle. I don't know what they say. Sometimes I don't want to know what they're saying. They'll come out and they'll be motivated."
COACH QUOTABLES
"Nobody has told them and they could never be convinced that they are ever going to lose," Brockman said. "They've just been feeling it."
"I've had to tell the boys to stay off social media sites," Brockman said. "We've dealt with the haters. And that's fine. But I tell them to stay off of it. With rising attention, there are going to be haters. That's just how things work. I tell them that others are just mad because they're wondering how we got to where we've gotten so quickly especially not having last year."
"The boys have been very humble," Brockman said. "I'll be honest, I'm so glad the guys are ranked No. 2 because it gives us another thing to fight for. But I think they realize at this point that they're a strong, solid team. And they believe that we legitimately belong in the final four.