HAMILTON — The Badin High football team avenged its early-season loss, cruising to a 46-14 win over Ross in a Division II quarterfinal at Virgil Schwarm Stadium.
Ross defeated Badin in a 20-19 overtime juggernaut of a contest in Week 1, but it was Badin that didn't waste any time gaining the early momentum this go-round.
By the time the first quarter ended, Badin was up 26-0, making this revenge game look fairly easy from the get-go.
Badin senior Josh Hegemann took the opening kickoff to the house 83 yards for the early 7-0 lead.
"It was a great start by us," Badin coach Nick Yordy said. "We needed a fast start like that."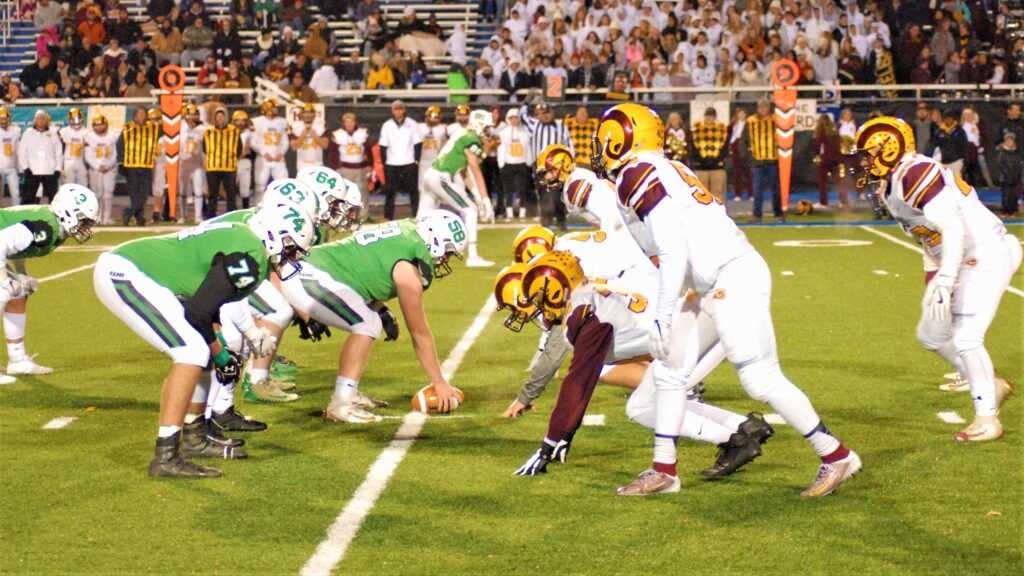 On the ensuing kickoff, Badin's Michael Schweinefuss booted the ball out of bounds at the 35 — giving Ross the ball at the 50-yard line. Ross had great field position, but the worst was just beginning for the team in maroon. On the first play, Ross quarterback CJ Boze was hit hard and fumbled the ball, and Schweinefuss jumped all over it for the change of possession.
The Badin offense controlled the line of scrimmage with a few short runs by senior running back Alex DeLong, moving the ball to the Ross 18-yard line. Badin quarterback Zach Switzer hooked up with Hegemann for the 18-yard touchdown connection.
Badin continued its fast start scoring two more times, both by DeLong — 5-yard plunge and a then a 58-yard punt return TD for a 26-0 lead heading into the second quarter.
Badin tacked on more, including a DeLong touchdown where he ducked from a tackler running down the sideline for 57 yards. Badin scored again shortly after on a perfectly accurate pass from Switzer to Hegemann for a 13-yard score.
Though the game seemed out of reach at the time, Ross put together a good drive to score at the end of the first half on a Boze 1-yard keeper. Mehki Bouldin found the end zone on a 9-yard touchdown run late in the game.
"They just beat us in every phase of the game," said Ross coach Kenyon Commins, whose Ross Rams finished 8-3 on the season.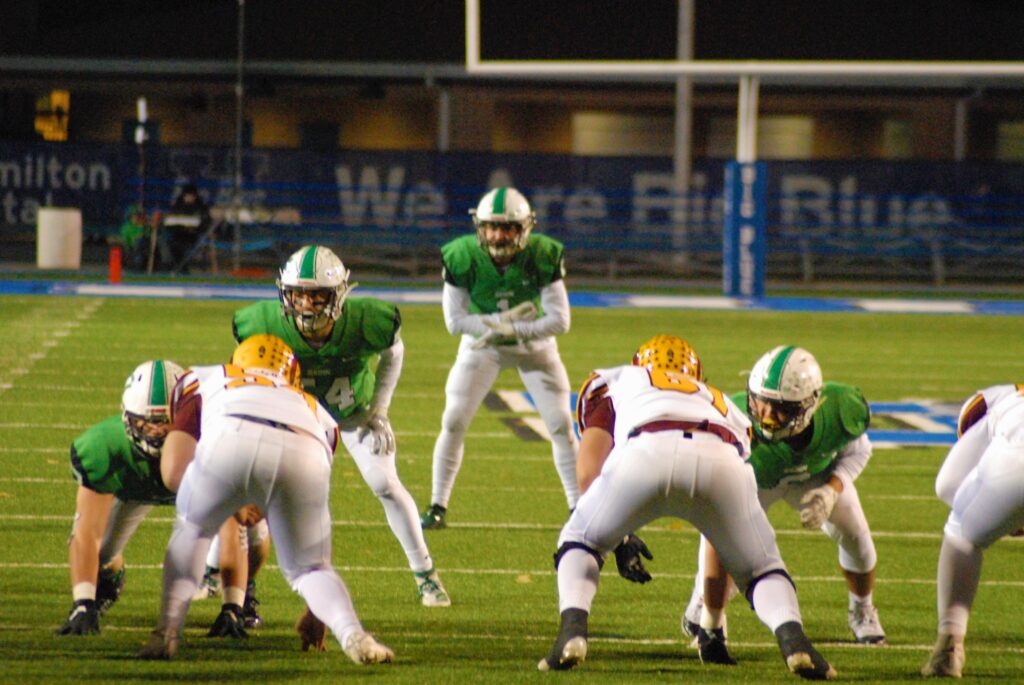 The one glaring weakness of a near-flawless game for Badin was the missed extra points, according to Yordy.
"We got to get a little better with our extra points," Yordy said. "He's (Schweinefuss) been solid for the past couple weeks, but hey, we will get it fixed."
Badin (8-3) takes on fellow Greater Catholic League Co-Ed Division rival and the No. 8 ranked Alter Knights next Friday at a site to be determined.
"This is a once in a lifetime opportunity in high school football," DeLong said. "There's nothing else that we could have gone better in this situation."
DeLong finished with 123 yards rushing and 3 total scores for Badin, while Hegemann had 7 receptions for 68 yards and 3 total touchdowns.
Jackson Gifford had 60 yards rushing for Ross.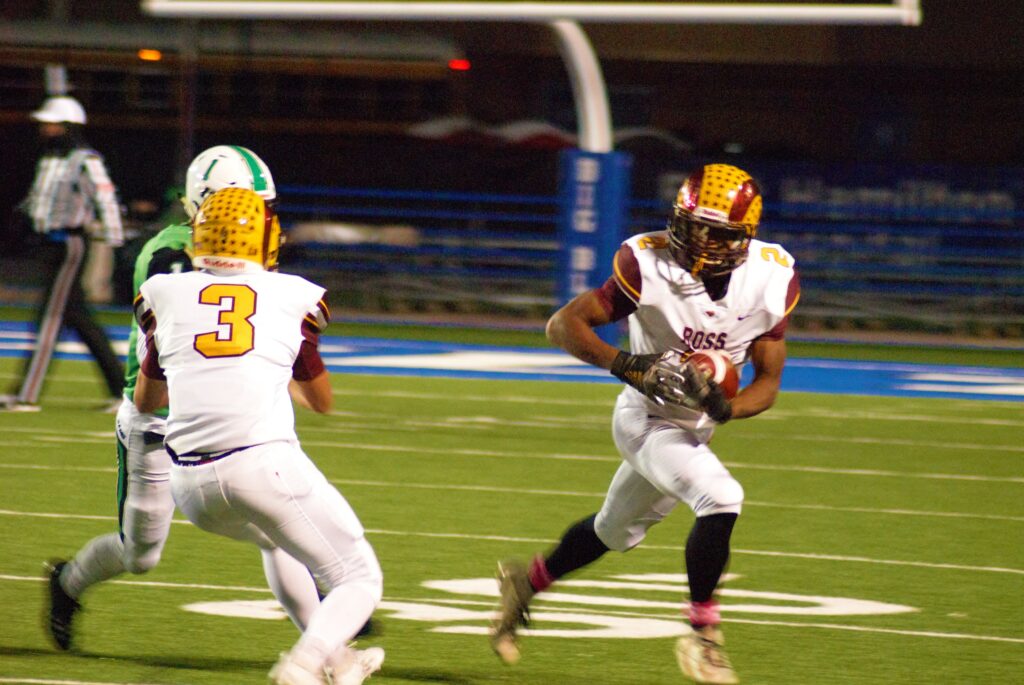 Ross 0 7 0 7 — 14
Badin 26 13 7 0 — 46
First Quarter
BHS 11:46 Kickoff by #16 LJ NEUMAIER to the 17 yard line. #11 Joshua Hegemann return for 83 yards. Touchdown (Point after kick by #88 Michael Schweinefuss is good.)
BHS 7:41 #10 Zach Switzer pass complete to #11 Joshua Hegemann for 18 yards. Touchdown! (Point after kick by #88 Michael Schweinefuss is no good.)
BHS 2:11 #20 Alex Delong runs for 5 yards. Touchdown! (Point after kick by #88 Michael Schweinefuss is good.)
BHS 0:24 #27 TANNER SMITH punts to the Rams 42 yard line. #20 Alex Delong return for 58 yards. Touchdown! (Point after kick by #88 Michael Schweinefuss is no good.)
Second Quarter
BHS 8:23 #20 Alex Delong runs for 57 yards. Touchdown! (Point after kick by #88 Michael Schweinefuss is no good.)
BHS 6:41 #10 Zach Switzer pass complete to #11 Joshua Hegemann for 13 yards. Touchdown! (Point after kick by #88 Michael Schweinefuss is good.)
RHS 0:02 #7 CJ BOZE runs for 1 yards. Touchdown! (Point after kick by #16 LJ NEUMAIER is good.)
Third Quarter
BHS 4:35 #10 Zach Switzer runs for 19 yards. Touchdown! (Point after kick by #88 Michael Schweinefuss is good.)
Fourth Quarter
RHS 3:55 #2 MEHKI BOULDIN runs for 9 yards. Touchdown! (Point after kick by #16 LJ NEUMAIER is good.)