This story is part of the Butler County High School Sports Report's "Blast from the Past" feature series.
HAMILTON — Rick Kunkel had a wooden fungo bat, a filled-out lineup card and a cast of players that took care of business with minimal direction. That's just how things went during gameday.
When you're mentoring a prep baseball squad consisting of talent fused together since its youthful days, being a coach essentially becomes an effortless task.
"It's really all I needed to do with those guys. All I had to do was let things take its course," Kunkel recalled of the 2005 Badin High School baseball team that finished 24-7 and reached the Division II state finals. "Their talent and their will to play together made everyone else around them better."
The Rams no doubt bled success from the beginning, and it showed through their mentality and a drive to compete at the highest of levels.
"They just wanted to win. They knew how to win, and they wanted to win," said Kunkel, who coached the Rams from 2001 to 2011 before swapping positions with 1997 graduate and assistant Brion Treadway — the team's current coach since.
"Looking back, I see more about them now than I did when they were playing in terms of their determination to win," Kunkel added. "They made the plays when they had to and did what they had to do to win. That's what they loved to do. They just wanted to win."
A triumphant journey for most of Badin's roster started long before the 2005 stint. Kunkel said camaraderie produced a well-oiled machine, and that well-oiled machine made its presence felt at Alumni Field.
"It really does make a coach look good when you have kids like the ones we had on the field that year," Kunkel said. "I'm dead serious. It made things easy for me. You still have to get them to play together and stay focused because they were teenagers. And that group had been playing together since they were really young."
"We grew up thinking Badin. We wanted to wear the 'B,'" chimed in Chad McKinney, a senior who played third base. "We came in a little cocky freshman year, but we knew we were talented. We had a good nucleus surrounding us. We knew we had something really good here."
TOP-NOTCH TALENT
Badin senior pitcher Jerry Young felt comfortable on the mound back then. As he should have been.
"Just going through the infield right now and naming everyone that had my back, yeah, I'd say I had every reason to be confident up there," Young said.
It started with the guys up the middle. Some may argue the shortstop-second base tandem of seniors Drew Maus and Drew Wurzelbacher was the best to ever go through the Badin program.
"You've been on teams where you have to be in a position to strike guys out in key situations. Not with those guys," said Young, who registered a combined 16-3 record with ace hurler Kyle Pfirrman. "There was no doubt that you did not feel like you needed to strike people out all the time.
"You had a team behind you that would make the routine plays," Young added. "We knew we were pretty solid and that there were going to be some plays made."
McKinney had third base occupied, while Brian Jett held down first, and Brian Dirheimer was the blockade behind the plate.
"That's the best infield I've ever seen, as a collective unit," said Kunkel, who noted that errors weren't part of the team's terminology. "They knew what to do. They knew where to be. You just had to point. You didn't have to coach them much. They were that good. I just put the lineup in, gave them some direction, and they knew what to do."
"Wurzelbacher, that son of a gun was making plays with a glove no bigger than his hand," McKinney added. "It was held together with those safety pins."
"Then you had Daniel Hurst running everything down in center," Young remarked. "From right to left, we were pretty darn good."
Alex Woodrey played left field, while Pfirrman — when he wasn't pitching — and Vince Broermann shared duties in right field.
"That lineup didn't change much throughout the season," Kunkel said. "What you saw out there was what you were doing to get it. Pure talent."
BREAKING OUT OF A SLUMP
Even a team with top-notch prospects needs a wake-up call every now and then.
Though the Rams started the campaign off by winning 8 out of their first 9 contests, they later hit a mid-season mental roadblock — losing 5 out of their next 7.
The slump featured an uncharacteristic 10-0 shellacking at home against Fairfield. And while that game took place nearly 15 years to this day — April 16, 2005 — it still stings.
"Oh yeah, oh yeah, I remember that for sure," Kunkel said. "I remember that game like it was yesterday. Fairfield beat our ass all over the field."
"We got pummeled pretty good by them," Jett added. "Right now it brings up memories of how bad we got beat. If there is ever a good thing about that, it was good to be humbled. It brought us back to reality. We knew for the next three to four weeks what we had going against us after that."
Kunkel and his coaching staff, assistants Chuck McKinney and Ken Brown, searched for a shift in momentum following the Indians' blowout.
And Badin found it.
"We were in a little bit of a lull," Chad McKinney said. "We weren't clicking. It was just a bad stretch. Fairfield came to our place, and they absolutely beat the brakes off of us.
"We were in the outfield talking after the game just like we always did," Chad McKinney added. "Our coaches were befuddled. They were like 'What's happened?' We're one of the best hitting teams to ever come through here.
"So we knew we had to do something with our bats," Chad McKinney continued. "We were pissed, our coaches were pissed. We always said that because we went on that run after the Fairfield loss, it was because we got all that bad juju off our bats during that talk in the outfield."
"We had a moment, that's for sure," Kunkel noted. "After that, we played lights out. We got to where we needed to be. They woke up."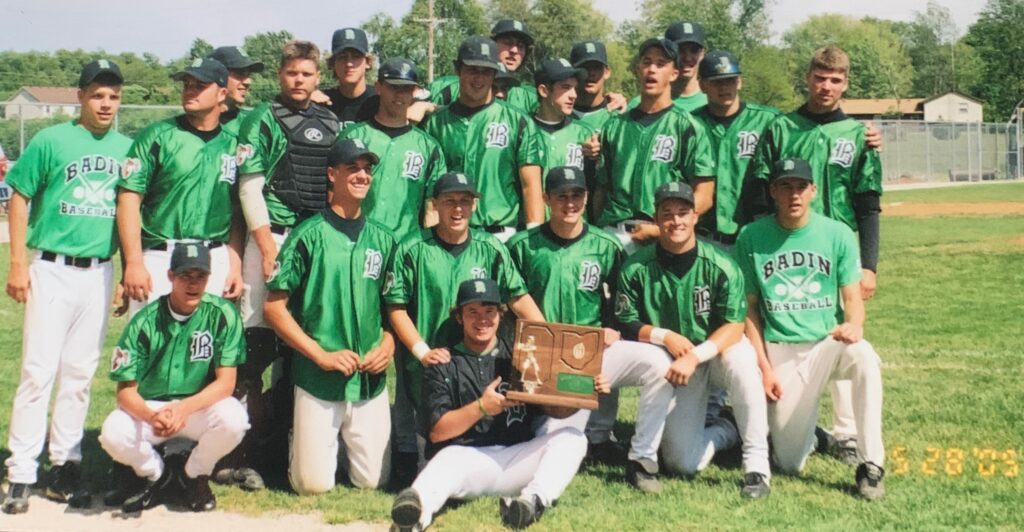 STATE-TITLE HEARTACHE
The Rams got back on track the last half of the season by reeling off a 13-game winning streak, which included a 9-2 win over McNicholas — a rare third victory over their Greater Catholic League rival that season — in the district finals, a 9-0 beatdown of Bellefontaine in the regional finals and a 1-0 triumph against Parma Padua in the state semifinals.
"It's one of the better journeys we've had through the postseason in Badin history," Kunkel said. "It was a helluva journey."
After Pfirrman took care of business on the mound against Parma on June 2, 2005, Young got the start versus Hebron Lakewood in the state final two days later.
It was Badin that drew first blood when Maus knocked in Pfirrman in the top of the third inning. But Hebron Lakewood responded in the bottom of the fourth as J.P. Keefe's base hit brought home Chris Hoffer to tie at 1-1.
"Then in the bottom of the seventh, that Keefe kid hit a rocket over the fence. It's still going to this day," Kunkel said. "I try to put that crap behind me. You will never forget the journey there, though."
"That guy (Keefe) should never have to complain about sports not going his way ever again," Chad McKinney noted. "The inning before that, Wurzelbacher crushed a one-hopper at him at first base. He sticks his base hand up and bats it down, then steps on first for the final out of the inning. That would have easily got Maus in who was in scoring position."
"That hit goes through, it probably goes to wall down the line," Kunkel added. "We just couldn't get the big hits, and that surprised me. That's baseball."
"We had come within a run of winning the whole thing," Kunkle continued. "But the journey, it was very nice. It was a very nice journey."
TREADING THE WAY
After graduating from Badin in 1997, Treadway — who went on to pitch for the University of North Carolina at Charlotte and was later drafted by the San Francisco Giants in the Major League Baseball June Amateur draft — said he got his first attentive glimpse of Badin baseball this exact season following shoulder surgery.
"I watched every game from districts on," Treadway said. "I caught a couple during the regular season games, too. As I kept watching them, I was thinking, 'These guys are really good,' They've got guys at every position who can get this team far. That was just one of the many good groups of ballplayers who helped set the Badin baseball model to what it is today."
QUOTABLES
"The slope continues to grow in terms of talent and competing at the best level," McKinney said. "A lot of that has to do with alumni. When you go to a big game like the Hamilton-Badin game or a Ross-Badin game, or Moeller-Badin, half of us are in the stands rooting them on and talking about the old times — talking about what we had."
"Hamilton breeds baseball," McKinney said. "It's a culture the guys who came before us in the '90s and even before that set for us. It's just instilled in us already because of teams in the past at Badin. I don't ever see Badin baseball plateauing. If anything I see it continuing to grow because of alumni and people that we have around it now."
"We grew up around the game," McKinney said. "We studied the game, and we just didn't have to be told what to do. A lot of times, Kunkle would have to wrangle us back in."
"When we were taking BP, we would lose ball after ball," McKinney said. "And Coach Kunkel told us no more metal bats. We said, 'OK then.' So we all grabbed our wooden bats, and Dirheimer was the first one up there. He put like six over (the fence) in one BP session. Coach went back into the garage, sat in his chair and crossed his legs. There was nothing he could do."
"For batting practice, Coach Kunkel wouldn't let us use metal bats anymore," Maus said. "We were hitting so many home runs. We had to use wooden bats. We kept crushing them. So we had to only hit BP in the cages from now on because we were losing so many balls."
"We saw us getting to state at the beginning of the season. We sure did," Jett said. "It's a dream for any high schooler to get there. We had a bunch of talent. It's a matter of being cliche, stay healthy and get a couple of things to go your way. But we knew we had the talent to get there."
"We just went out there and knocked things out during practice," Jett said. "We knew where we stood. There wasn't any drama. We would get on the bus, and Kunkel would tell the bus driver where we're going. We'd get out, and coach would just let us loose."
"You want to talk about someone who would pick someone up if they were having a rough day," Jett said. "That was us. That was our team. Everything just clicked. It was awesome."
"I called my coach at Charlotte and told him that there was an uncommitted stud up here on my former high school team," Treadway said. "It was Pfirrman. He ended up going to Charlotte after that."
"The thing that stood out the most for us was that we were inseparable," Maus said. "Because we played together when we were so young, you were basically playing Badin baseball since you were 13 years old. You already know that you're going to Badin at that age, and when you're grouped up with guys who are going to be playing for Badin with you, you become that much more inseparable and better at baseball, to be quite honest."
"I wouldn't say that we weren't coached, but we knew how practices were going to go every single day," Maus said. "The only thing that Coach Brown, Coach McKinney and Coach Kunkel were there for was for hitting ground balls. We knew our bunt coverages in and out, we knew our first and thirds. We just did."
DID YOU KNOW?
Maus batted .480 during the season, which is tied with T.J. Nichting (2013) for fourth-best in school history. Pfirrman and Dirheimer both batted .412 at the plate. Pfirmann hit 4 home runs, while Jett hit 3.
Pfirrman accounted for 107 of the team's 228 strikeouts on the mound. Young, in 47.2 innings pitched, had a 1.17 earned run average.
The 2005 Badin roster consisted of Vince Broermann, Brian Dirheimer, Rick Graf, Zac Hubbard, Daniel Hurst, Brian Jett, John Jones, Andy Koenig, Drew Maus, Chris McCaughey, Chad McKinney, Kyle Pfirrman, Dane Pfister, Bill Roach, John Scheffer, Chad Smith, Jake Stapf, Alex Sunderhaus, Scot Webb, Alex Woodrey, Drew Wurzelbacher and Jerry Young.
Do you have a "Blast from the Past" story idea? Send us an email to info@BCHSSReport.com.