With just two weeks left to go in the season, here's a look at the Butler County high school football teams that are still in playoff contention and where they stack up going into Week 9:
DIVISION I, Region 4:
FAIRFIELD (8-0), ranked 1st: La Salle's victory over St. Xavier last week has officially given Fairfield all of the help that they need. The Indians can stop scoreboard watching altogether, as they now have complete control of their own destiny for the No. 1 seed. Simply put, if Fairfield beats Oak Hills in Week 9 and Colerain in Week 10, the Indians will have the No. 1 seed. Done. If Fairfield should drop either of those games, never fear — Fairfield cannot finish any lower than 4th, which means that the Indians will host a first-round playoff game on Nov. 8. Enjoy, Fairfield fans — and remember to send La Salle a thank you note.
LAKOTA WEST (6-2), ranked 5th: Here's the basic scenario — if Lakota West beats Princeton and Middletown, and if Colerain should beat Lakota East and lose to Fairfield, then both Lakota West and Colerain will be in play for the No. 4 seed. Both would be 8-2, and both would be 7-1 in conference, having not played each other. That means that both would have an identical set of points from 7 of their 8 wins (the other 7 teams in the GMC besides Fairfield). The No. 4 seed would be determined entirely by who finishes with more first-level points between Centerville and Wayne. (Those first-level points from Centerville get dumped into West's second-level points category, and the same for Wayne with Colerain.) Heading into Week 9, Centerville has 25.0 first-level points, and Wayne has 19.5 first-level points. Advantage: West. Centerville plays 4-4 Clayton Northmont and 7-1 Springboro in their last two games. Wayne plays 7-1 Springfield and 4-4 Clayton Northmont. All four of those games are worth an identical 6.5 points. So for West to hurdle Colerain (if Fairfield beats Colerain and West wins out), it would simply require Centerville to match Wayne in the last two weeks. West can have a "win + Fairfield win" scenario next week if West beats Princeton, Centerville beats Northmont, and Springfield beats Wayne this weekend. Of course, if West's intra-district friends at East can knock off Colerain this weekend, the home game door swings wide open for the Firebirds. And even if West gets no outside help, two wins assure them of finishing no lower than 5th.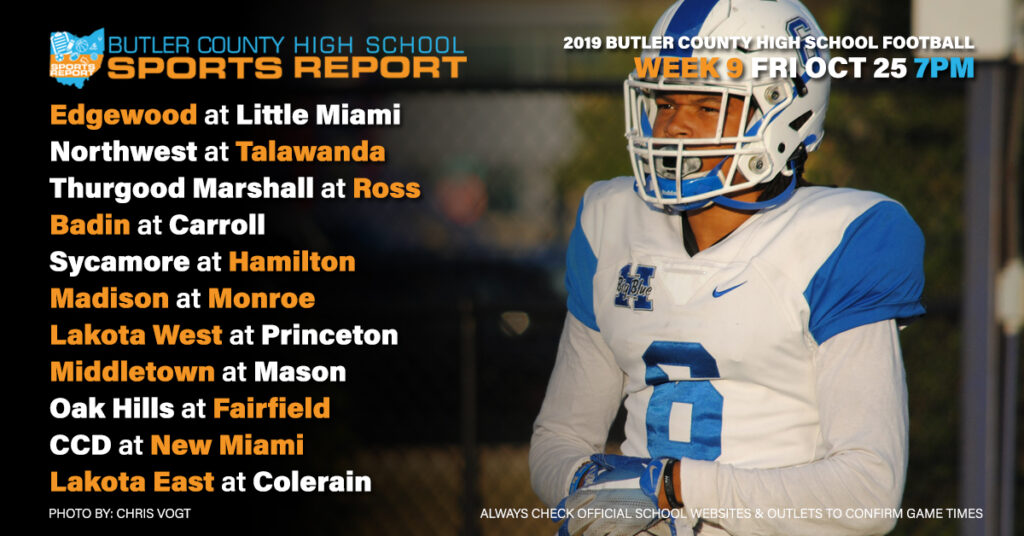 HAMILTON (4-4), ranked 8th: The win over Middletown only gave Hamilton 6.5 second-level points last weekend, but that was all it took to jump from 11th to 8th, due to Lakota East's loss, Mason's loss, and Walnut Hills beating 0-8 Loveland. Hamilton's last two games will be against Sycamore (25.0 second-level pts) and Lakota East (26.0 second-level pts). This will absolutely provide Hamilton the firepower they need to qualify for a road playoff spot if they win their last two. Even by going 1-1 in the last two games, a playoff spot is still very possible, depending on the results of other games. If Hamilton were to lose to Sycamore this weekend, the single greatest gift they could get is an Anderson win over Walnut Hills. Such a scenario would keep Hamilton, Walnut Hills, Mason, and Lakota East (if they lose to Colerain) in a 4-way scrum for the 8th and final playoff spot, setting the stage for a Hamilton vs. Lakota East "play each other and root for Mason and Walnut Hills to lose" wild Week 10.
LAKOTA EAST (4-4), ranked 11th: The Thunderhawks play Colerain this weekend, and if they should spring the upset, a massive 45.5 second-level points will enter their column. East would be sitting pretty and would have a phenomenal chance of grabbing one of the road playoff spots. But what if Lakota East should lose to Colerain? East could still finish 5-5, and there would be some major scoreboard-watching involved to grab the No. 8 seed. It would require a Week 10 win over Hamilton, for starters. It would involve Lakota East having to hurdle Mason, Walnut Hills, and the loser of the Week 9 Hamilton-Sycamore game, as well as not being caught from behind by West Clermont or Milford. Like Hamilton, this means that the Anderson-Walnut Hills game this weekend becomes the most important scoreboard-watch. Lakota East would need an Anderson win to keep Walnut Hills from climbing too far away. Depending on who loses the Hamilton-Sycamore game, an East Week 10 win over Hamilton would hurdle whichever of the two teams that is (Hamilton themselves, finishing 4-6, or Sycamore, as they play 0-8 Oak Hills in Week Ten). The scenario probably also involves Princeton beating Mason in Week 10, as well as Kings beating West Clermont in Week Ten, and Turpin beating Milford in Week 10. But hey, beat Colerain this weekend, and take most of the guesswork out of it, right?
DIVISION II, Region 8:
TALAWANDA (6-2), ranked 9th: A similar situation to last week, Talawanda plays an opponent that won't provide them many second-level points (Northwest, 5.5 pts) and will have to scoreboard watch to see where they'll fall when they enter the Week 10 showdown with Ross, which may be shaping up to be a play-in game for both teams. If the teams above Talawanda win out, the Brave cannot possibly finish any higher than 6th, and Walnut Ridge is so far ahead that it would take a cataclysmic series of events to see Talawanda land at the No. 6 spot. For all intents and purposes, if Talawanda gets in, it's as the 7-seed or the 8-seed. Xenia and Winton Woods have the inside track for those last two playoff spots, and if both of them win this weekend, they can almost effectively "seal off" Talawanda from being able to break into the Top 8. Xenia plays 7-1 Troy (40.0 second-level pts) this weekend, and Winton Woods plays 7-1 La Salle (43.5 second-level pts). Anderson, Talawanda, and Little Miami are within striking distance to fight over one of those spots if Xenia and/or Winton Woods loses. One loss from Xenia/Winton Woods loosens up a spot — two losses loosen up two spots. And Winton Woods has a bye in Week Ten, so the La Salle game is pretty much an "all-or-nothing" proposition for the Warriors. Brave fans in Oxford, you are BIG fans of Troy and La Salle this weekend. Your playoff hopes may very well depend on it.
DIVISION III, Region 12:
BADIN (5-3), ranked 6th: Teams above the Rams keep winning, and Badin will be kicking itself for dropping the C-J game two weeks ago. C-J, Franklin, Wapak, and Trotwood-Madison are the Top 4 teams in the region, and if all four of those teams win out, Badin will not get a home game. Badin closed the gap on St. Mary's Memorial but did not overtake them last weekend. The Roughriders and Rams will be neck-and-neck down the stretch; Badin will need to hope for wins from Edgewood, Roger Bacon, and Purcell Marian, as well as losses for Sidney to be able to clip St. Mary's Memorial for that No. 5 spot and the inside track to a home game, should one of the top 4 teams fall. The most likely team to target in the top 4 is No. 4 Trotwood-Madison. The red-and-white Rams play 7-1 Springboro (45.5 pts) and 7-1 Springfield (45.5 pts) in back-to-back weeks. That will give Trotwood the firepower to most likely grab the No. 1 seed if they win both. But should they lose both, a home game spot opens up…St. Mary's Memorial…Badin…Ross…who wants it? No. 3 Wapakoneta also has a challenging opponent Week 10, when the Redskins play 7-1 Ottawa-Glandorf (37.0 pts). A Titans win over Wapak has the potential to also dislodge a Top-4 spot for the Roughriders or for whichever of the two Rams can grab it.
ROSS (6-2), ranked 7th: Ross would've been 5th and first in line to grab a home game if one of the top 4 should fall–had they beaten Little Miami last weekend. It didn't work out, but all is not lost for the Rams. Like Badin, Ross will need to hope for two Trotwood-Madison losses or a Wapak loss to Ottawa-Glandorf, or some other crazy shenanigans with losses in the Top 4 to open up a home game spot, where Ross, Badin, and St. Mary's Memorial would be in a battle royale, counting every single second-level point to see who can finish 4th. Maybe that Monroe win over Oakwood last weekend will make all the difference? Ross should still be in pretty good shape to at least qualify for a road playoff spot if they beat Thurgood Marshall and Talawanda the last two weeks. But if you want to be sure that you're not caught from behind, it wouldn't hurt at all if Harrison beat No. 10 Mount Healthy and No. 1 C-J beat No. 11 Fenwick this weekend.
DIVISION V, Region 20:
MADISON (5-3), ranked 9th: Challenge accepted. With everything on the line last weekend, the Mohawks beat Northridge 27-0 and grabbed the 28.0 second-level points that they needed to be in the mix when Week 10 rolls around. Madison plays Monroe this weekend for only 5.0 second-level points; they'll be essentially jogging in place while the rest of the board fills in around them. The Waynesville game in Week 10 will provide Madison an opportunity for 33.5 second-level points to make their case (38.5 if Waynesville beats Northridge this weekend). After all the Week 9 scores are in, it will make a lot more sense with what exactly Madison will need to get them over the hump. Sitting at 9th right now, the Mohawks will obviously need to catch at least one team ahead of them without getting passed from behind. No. 8 Greenon looks like a potential candidate, as they play Southeastern Local (7.5 pts) and Greeneview (16.0 pts) in their last two weeks. No. 5 Summit Country Day and No. 6 CHCA play each other, so somebody's going to lose that and be another candidate for Madison to try to catch next week. Not sure which one is preferable to the Mohawks. If it's CHCA losing, then the Eagles play 0-8 Meadowdale in Week 10; Madison could make the leap. If it's Summit CD losing, then the Silver Knights play 7-1 Roger Bacon in Week Ten; firepower to stay ahead of Madison, but a really strong potential to parlay that into back-to-back losses down the stretch, which would let Madison pass them. Looking in the rearview mirror, if Madison could get one result to go their way, they might root for Deer Park to knock off No. 11 Mariemont, as it would keep Mariemont below Madison. Mariemont plays No. 7 Madeira in Week Ten. A Deer Park win over Mariemont, paired with a Mariemont win over Madeira might just allow the Mohawks to pass BOTH Madeira AND Mariemont. Lots of possibilities here.
DIVISION VII, Region 28:
NEW MIAMI (7-0), ranked 1st: Minster 27, Marion Local 26. Final. That sounds like sweet, sweet music in the Village. New Miami has not officially clinched their playoff spot yet, but that should be a mere formality. What New Miami should be desiring most is the No. 1 seed, and it's so close, they can taste it! Why does the No. 1 seed matter so much for New Miami? Because there are two absolutely QUALITY teams in New Miami's region right behind them in Fort Loramie and Marion Local. Fort Loramie was the No. 1 seed last year and ended New Miami's season, in 41-0 fashion. Marion Local, bouncing back-and-forth between Divisions VI and VII, has been to the last EIGHT state championship games. Time will tell how battle-tested New Miami has been over the duration of their schedule, but clearly, if there are two teams you'd prefer not to see in the playoffs, Fort Loramie and Marion Local are the two you'd choose to bypass. If New Miami grabs the #1 seed, it most likely pushes Fort Loramie and Marion Local to the bottom part of the bracket, meaning that they would play each other in a potential semifinal, and forcing New Miami to only have to deal with ONE of them, instead of both in back-to-back weeks. The value of this CANNOT be overstated for the Vikings! New Miami cannot possibly finish any lower than 2nd if they win out, with Marion Local needing a prayer to oust them from the 1-line. New Miami clinches the 1-seed with two wins, combined with any ONE of the following:
Marion Local loss, in either of the last two weeks
New Bremen win over Delphos St. John's in Week Nine
Minster win over Versailles in Week Nine
Gamble Montessori win over Dohn Community in Week Nine
Fayetteville win over Blanchester in Week Nine
St. Bernard-Elmwood Place win over Clark Montessori in Week Nine
Lockland win over North College Hill in Week Nine
Gamble Montessori win over Hughes in Week Ten
Fayetteville win over Bethel-Tate in Week Ten
Cincinnati College Prep win over North College Hill in Week Ten
MVCA win over Clark Montessori in Week Ten
Eastside (IN) win over Woodlan (IN) in the first round of the Indiana playoffs
MVCA cancels either of their two remaining games, due to not having enough players